By Harmeet Shah Singh
CNN





NEW DELHI, India (CNN) -- She lost her career, was ostracized and driven to a suicide attempt.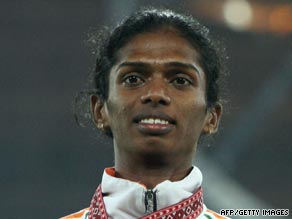 Santhi Soundarajan lost her 2006 Asian Games silver medal after failing a gender test.
Having lost her 2006 Asian Games silver for failing a gender test, India's Santhi Soundarajan has made an emotional appeal that Caster Semenya should not be subject to the trauma she went through.
The Olympic Council of Asia stripped Santhi of the silver medal she won in the 800m in Qatar, saying she had been "disqualified as per the recommendations of the medical committee on a Games rule violation," The Times of India reported at the time.
Like the South African athlete, Soundarajan says she found out the results of her gender test from newspaper and television reports. She told CNN: "It was the biggest shock of my life. The shock is still there in my mind."
"It ended my sports career. I even attempted suicide in 2007 by taking poison. It was a mental torture," the 28-year-old runner told CNN by phone from her southern Indian district of Pudukkotai.
Soundarajan now lives on a contract job of Rupees 5,000, or around $100, a month as an athletics coach of the government of Tamil Nadu state.
She trains hopeful athletes from a small academy she has started in Pudukkotai.
"There are an average of 65 (trainees)," Soundarajan said in broken English. None of them is charged any fee, a claim endorsed by the district sports officer, P. Kannusamy.
Don't Miss
The idea to start an athletics academy was an attempt to start life afresh after facing what she called social ostracism.
"Everybody would think that I am not a good sports person... it was as if I had committed a crime," Soundarajan remarked, recalling events that followed her gender-test results.
The athlete lives separately in a rented apartment from her parents. A younger sister and her brother live with her. She told CNN that her relationship with her family has not changed as everyone still sees her as a woman. Her birth certificate states that she was born in 17 Apr 1981 and that she is female.
Soundarajan would also spend her reward money on her students.
"I want them to be good athletes."
But herself, she still feels haunted by her past.
"I still feel sad. And that's why I want Semenya should be treated with honor. She's a good athlete," said Soundarajan. "Don't reject (withdraw) her medal. She should be allowed to run (as a woman)."
E-mail to a friend