From Kyung Lah
CNN





TOKYO, Japan (CNN) -- Yoshiko Sato would love to give her only son a brother or a sister. But money struggles and Japan's cost of living have pushed the mother to wait.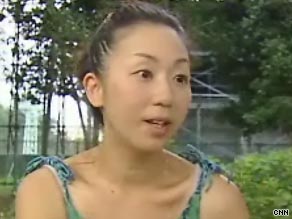 Japanese mother Yoshiko Sato says the proposal "would help us with a second child."
A proposal to pay parents about $3,400 a year per child has got her thinking seriously about expanding her family. The cash for kids plan is the brainchild of the country's new ruling Democratic Party of Japan, which came into power during the elections this week. The proposal has garnered supporters and critics.
"It would help us with a second child," Sato said.
The proposal would pay families the money every year until the child reached high school. It is an effort to boost Japan's birthrate, which is one of the lowest in the world and is a major drag on the country's economy. It is compounded by Japan's rapidly aging population.
About a quarter of the country's population is older than 65, according to government figures. By 2050, that number is expected to reach 40 percent.

Watch as some parents ponder procreation »
Nevertheless, the money for babies proposal has its critics. Economist Yuri Okina said she wonders where Japan's government is going to come up with the money to fund it.
The plan is not an instant fix, she said. What's needed, Okina said, is a way for women to remain in the work force after having children instead of being forced out because of lack of child care.
"We have to make it normal in Japan for a woman to raise a child and have a career," Okina said.
Critics also have said the plan would not fix a significant problem for working families -- the lack of day care centers. About 40,000 children are on waiting lists for day care, according to government figures.

These facilities' scarcity is problematic for mothers such as Hiromi Espineli.
"Going back to work would be tough," she said, "since there are so few day care centers."
E-mail to a friend

All About Japanese Politics • Japan