KABUL, Afghanistan (CNN) -- Polls opened Thursday morning in Afghanistan, as the war-ravaged nation held its second-ever presidential and provincial council elections.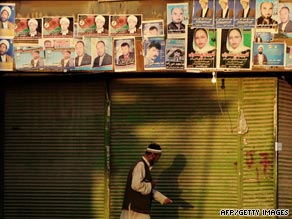 A man walks on a street near electoral posters in Kabul, Afghanistan on Wednesday.
Incumbent President Hamid Karzai was the frontrunner leading up to the ballot, which got under way amid a government-ordered ban on media coverage of violence. The action was taken to keep voters from being too scared to vote.
Shortly after polls opened, Karzai cast his vote and had his finger stamped with indelible ink, a measure to thwart fraud. His name appears on the ballot with 40 other candidates for president.
His top rival is his former finance minister Abdullah Abdullah, who once served as a confidante of Ahmed Shah Massoud, the charismatic leader of the anti-Taliban Northern Alliance killed by al Qaeda. The other candidate who picked up steam in the campaign is former finance minister Ashraf Ghani, a Western-educated man who worked as a World Bank analyst.

Who are the candidates? How does the voting work? Read here »
Violent attacks had escalated in Kabul in the days before the election, shattering the relative calm the capital had known in recent months.

Watch a survivor describe an attack this week »
It was difficult to predict voter turnout, but large numbers at the polls could help marginalize the Taliban, Afghanistan experts and analysts said. About 15 million Afghans are registered to vote. Earlier, officials had estimated that number as 17 million.

What do Afghans want? See in photos here »
The radical Islamist group, which ruled Afghanistan from 1996 until the 2001 U.S.-led invasion, has threatened to disrupt the election with violence.
Don't Miss
"We're at a moment of truth," said Mark Schneider, senior vice president of the International Crisis Group, an independent advisory and analysis organization.
International donors are helping pay for the $223 million electoral undertaking, and hundreds of U.S. Marines and Afghan soldiers have moved into strife-torn southern Afghanistan to protect voters against possible Taliban attacks.

Watch preparations on election eve »
Richard Holbrooke, the top U.S. envoy in the region, acknowledged earlier this week that staging an election in the midst of war was tough but expressed optimism that Thursday's vote would showcase Afghanistan's fledgling democracy.
Karzai was named interim leader after the fall of the Taliban regime and won the 2004 election by a significant margin. His popularity, however, has waned in recent months as Afghanistan suffered stifling corruption and an increasingly bloody Taliban insurgency.
On Wednesday police stormed a bank in Kabul and killed three armed robbers whom local media identified as Taliban members.

On Tuesday a rocket attack damaged the compound of the presidential palace.
And a deadly suicide strike killed seven civilians and wounded 53 others on Jalalabad Road, a major thoroughfare in the capital, a defense ministry spokesman told CNN.
E-mail to a friend

All About Afghanistan