ISLAMABAD, Pakistan (CNN) -- More than 30 Taliban militants were killed and 30 injured in a military offensive in the Pakistani tribal region along the Afghan border, an official said Saturday.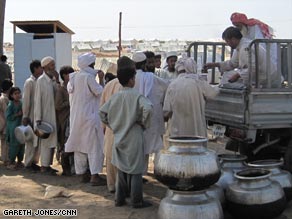 The recent fighting in Pakistan has displaced an estimated 2 million people.
The fighting in South Waziristan occurred in the past 24 hours, according to the military official. CNN could not confirm the casualties because of access and safety reasons.
Shelling and heavy weapons were used against the militants, the official said.
No military casualties were reported.
The tribal region has seen a spike in attacks by suspected U.S. drones on what are thought to be Taliban targets in recent weeks.
The U.S. military in Afghanistan routinely offers no comment on reported cross-border strikes. However, the United States is the only country operating in the region known to have the ability to launch missiles from drones, which are controlled remotely.
Don't Miss
The Pakistani military is finding more resistance in the region than in the Swat Valley in the North West Frontier Province, the official said. The military has waged a weeks-long operation against Taliban militants in the Swat Valley.
The United Nations has said an estimated 2 million Pakistanis have been displaced by fighting between the Pakistani military and Taliban militants. Suspected militants have carried out several attacks on civilian targets across Pakistan in recent weeks.
The militants threatened to continue attacking cities in Pakistan until the military ends its operations against the Taliban.
E-mail to a friend

CNN's Nic Robertson contributed to this report.