By Daniela Deane
Special to CNN






(CNN) -- Cynde Strand, CNN's Beijing camerawoman during the crisis, had spent night after night in Tiananmen Square, amidst a heap of trash, leaning on her ladder, her head over her camera, just waiting for something to happen.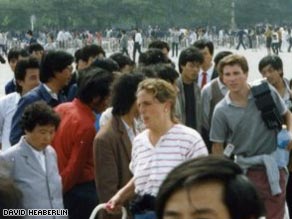 Cynde Strand: "I just knew this was the day it was going to end."
If she was really exhausted, she'd lay plastic over the trash and cat-nap on that.
"Every night I would stay there," she recalled. "Every night there'd be rumors that the troops were coming, or they weren't coming. And then there were all those kids we had gotten to know," she said about the demonstrators.
"Some days I'd start around 5 and just stay the whole night," she said. "The sun would come up and I would just ache. But I knew I wanted to be there when it happened."
She and Mike Chinoy, both based in Beijing and both keen watchers of the Chinese leadership, shared the feeling that the situation was going to end badly.
The Chinese had been deeply embarrassed by the demonstrators during the visit of Soviet leader Mikhail Gorbachev, they reasoned, and the students were still occupying Tiananmen Square, although their numbers had dwindled.

See photos of the CNN team in Tiananmen Square in 1989 »
In their minds, the Chinese leadership just would not stand for that. And Strand had a feeling that whatever was going to happen was going to happen at night, when energy levels were low.
"That Saturday (June 3), I just knew this was the day it was going to end," she said.
"That peaceful people-power picnic sit-in was gone. There was anger, rock-throwing behind the Great Hall of the People. The tension was much higher."
And then Strand and her team got word of troops coming towards the giant square. And then kids started running into one side of the square with bodies.
"I got everybody together and said, 'okay, this is it,'" she recalled. "'If you don't want to stay, you can go. You don't have to stay here with me, but you have to leave now.'"
She and soundman Kit Swartz stayed in the square for that entire historic night, determined to witness history.
"Bullets were whizzing overhead and then about 3 or 4 in the morning, they turned all the lights off," she said. "Troops started pouring out of Mao's mausoleum, different troops came out from under Mao's portrait. Tanks moved in. By early morning, they had taken over the square and crushed that tent city."
Strand didn't get to film much that overnight of June 4. It was dark, she and Swartz took shelter behind public bathrooms for awhile, and the most dramatic images she had managed to film had gone with producer Donna Liu back to the CNN bureau.
Strand had no idea what had happened to the tapes. And no one at CNN knew what had happened to her and Kit. Her walkie-talkie battery was long dead and nobody had cellphones then.
From CNN's base at the Beijing Hotel, the square, she knew, "looked like hell, with buses on fire, APCs [armed personnel carriers] on fire and the Goddess of Democracy statue backlit by the fires burning on the road."
Daytime broke. Chinese troops controlled the square. Strand and Swartz needed to get back to the CNN bureau.
They flagged down a flat-bed rickshaw driver, who pedaled them and their gear to the Beijing Hotel. As they arrived, journalists leaned out of the hotel windows, begging to hear what had happened overnight.
She walked into the CNN bureau. She and Chinoy looked at each other. She could see the palpable relief on his face.

"It was one of those moments," she recalled, "just a deep connection between us. It said: 'We knew it was coming, and we survived it.'"
Cynde Strand is now Director of Coverage at CNN International, based in Atlanta
E-mail to a friend

Daniela Deane was a chief sub-editor at the Reuters news agency in Hong Kong during the Tiananmen crisis