BEIJING, China (CNN) -- China on Tuesday marked the first anniversary of a devastating earthquake that left nearly 90,000 dead or missing one year ago in mountainous Sichuan province.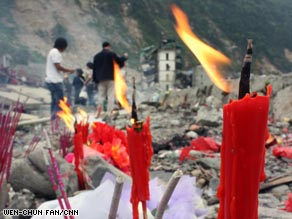 Candles left by mourners dot the landscape in Beichuan city, each representing a lost loved one.
In Yingxiu Township at the Xuankou middle and high school, a moment of silence was held amid the ruins of collapsed buildings and debris. Mourners placed yellow and white silk flowers at a quake memorial, sang the national anthem and a white jade carving of a clock that stopped at 2:28, when the temblor hit, with the date underneath, according to the state-run Xinhua news agency.

China's President Hu Jintao attended the ceremony.

Other memorials were planned across the country, according to Xinhua, including soldiers spreading flowers at sea and schoolchildren creating memorials.
The May 12, 2008, quake killed 68,712 people, Xinhua quoted Huang Mingquan, head of Sichuan's provincial civil affairs department, as saying at a press conference last week. It left 17,921 missing, more than 374,000 injured and at least 15 million people displaced.

Watch a memorial service for those killed »

The initial tremor was so strong it was felt as far away as Beijing and even Bangkok, more than 2,000 kilometers (nearly 1,250 miles) away. The epicenter: Wenchuan County, a lush, mountainous region with a population of more than 111,000 people.
"It hit a large area of Sichuan, more than 100,000 square kilometers, and impacted more than 15 million people," said Jiang Li, vice minister of civil affairs, who was at the frontline of the massive rescue and relief efforts. "I think the Chinese government responded very quickly, so it's very positive in terms of rescue efforts."
Don't Miss
The disaster served as a rallying point for the Chinese government to reach out to the outside world and to instill patriotism and humanitarianism among the Chinese.
Since then, however, the government has come under some criticism for its handling of the post-quake period -- notably the quality of school construction in the affected area and the number of children who perished in the temblor.
Only last week did the Chinese government reveal that the quake left 5,335 students dead or missing and disabled an additional 546 children.

Watch China analyst Victor Gao offer reflections on the anniversary »
Parents and survivors have said school buildings were disproportionately affected because they were shoddily constructed -- and they have accused government officials and construction contractors of being responsible.

The parents have supporters, such as Beijing-based artist Ai Weiwei, who organized a team of volunteers to investigate, record and account for what happened.
"Once you have the basic facts, you know who is responsible for those kids," Ai told CNN. "Thousands of people died in this earthquake and is it necessary for them to die, or is it caused by some mistakes or wrongdoings in the construction of buildings?"
E-mail to a friend

CNN Beijing Bureau Chief Jaime FlorCruz contributed to this report.
All About China • Natural Disasters • Earthquakes