By David Challenger
CNN





HONG KONG, China (CNN) -- For 20 hours Gao Ying lay in the rubble of her school in China's Sichuan province last spring. The May 2008 earthquake that struck southwest China had leveled many buildings across the region.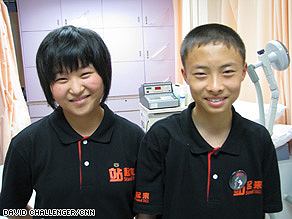 Gao Ying, left, and Chen Yechao visit the physiotherapy room at Prince of Wales hospital, Hong Kong.
Gao had survived -- unlike many of her classmates -- but injuries sustained to both her legs meant she would need amputations just below her knees.
"I was very scared," recounted the 14-year-old Gao. "After my legs were amputated, I began treatment. In the beginning it was very hard to get used to my new legs. It's still hard to wear them, though it does help me to cope with my life better now."
Gao faces a long road of recovery and rehabilitation, but the teenager has hope, and in large part because of a Hong Kong-based organization formed to help people disabled from the May 12, 2008 earthquake.
Two weeks after the quake, the group of Hong Kong health workers specializing in orthopedic and traumatology named their effort StandTALL.
Partly funded by public donations and the Hong Kong government, it consisted of 200 medical volunteers -- half of them doctors, the other half made up of physiotherapists, occupational therapist, and prosthetic engineers.
From the early hours following the quake, the Hong Kong group had their work cut out for them -- many of the survivors pulled from the rubble were in need of immediate amputations. A year on, StandTALL has treated 1,000 cases in hospitals in the quake's epicenter, Sichuan, as well as in Guangzhou province and Hong Kong's Prince of Wales Hospital in Sha Tin.
Of these cases, 70 percent are made up of children.
"The reason we concentrate on children is that they need more care," explained Herman Lau, rehabilitation coordinator for StandTALL. "Because after amputation, the bones of children still continue to grow, so treatment is much more problematic."
Gao will need long-term physiotherapy and rehabilitation, as well as adjustments of her prosthesis, said Joy Thang, senior physiotherapist for StandTALL.

Listen to and watch our audio slideshow »
"Mentally she has adjusted well, but it's been very difficult for her. Out of 64 of her fellow students, 46 died in her class that day," Thang said.
Like so many other cases involving child victims, 12-year-old Chen Yechao was in school when the quake hit, though his recollection is hazy. Most of his time lying beneath the rubble awaiting rescue was spent in a coma.
"The earthquake occurred suddenly, and there was a lot of shaking," Chen said. "It stopped for a while, and then it started again. I tried to run away ... that's all I can remember."
Chen's left arm was badly injured and suffered from severe bleeding, said Johnson Tang, physiotherapist at Prince of Wales Hospital and a volunteer for StandTALL.
"To preserve his life, his arm was amputated," Tang said. "His prosthesis includes an electrical hand, which helps him with daily functions. But he still needs on-going physiotherapy training for postural reinforcement and muscle strengthening."
A weekend of treatment and smiles
On the first year anniversary of the Sichuan earthquake, both Gao and Chen joined other amputee quake victims for medical assessment and treatment at Prince of Wales Hospital, the main source for StandTALL medical volunteers.
StandTALL also organized a symposium at the hospital, which aimed to share information on how the organization handles cases with medical students, as well as medical professionals from China.
But it's not all about diagnostics and presentations. As part of their visit, the amputee victims and their families were treated to a day at Disneyland in Hong Kong.
"The physical and mental hardships of amputee victims are interrelated, so we want to give them as much joy as possible," Lau explained. "Disneyland's arrangement of activities really benefits the children. And we also allow adult victims to bring their children, too, so it helps the families as a whole."

The effect is evident. Both Gao and Chen, exhausted from the previous day's medical procedures, found renewed optimism as they explored the theme park's main attractions.
"Sometime when something bad happens in your life, it can be balanced by good things," Gao said.
E-mail to a friend

All About Hong Kong Disneyland • Hong Kong