By Emily Chang
CNN





BEIJING, China (CNN) -- The apartment was a flurry of activity. Brother and sister Ren Qiang and Ren Yan were bursting with energy.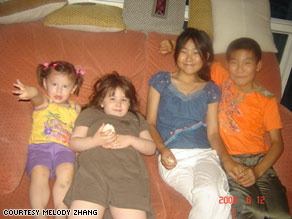 Ren Yan, second from right, and Ren Qiang, far right, hang out with foster sisters Angela and Lian last June.
Yan, 12, took turns fiddling with a remote control car and a dollhouse. Her brother, 11-year-old Qiang, played with their younger foster sisters. There were giggles, shouts and whines.
This was Yan and Qiang's first visit with their foster family in weeks, since they normally live at a home affiliated with a boarding school they are now attending in Beijing. By the smiles on their faces, you would never know they were orphaned just a year ago.
Their mother was on a routine trip last May 12 to a store in Wenchuan county when an 8.0-magnitude earthquake struck, collapsing the structure and crushing her to death - making her one of the temblor's 69,000 victims. Their father was a construction worker who died in a car accident ten years before, and both children say they do not remember him.
Yan and Qiang are members of the Qiang minority group, known for herding sheep, farming, and living in decorated stone houses in the mountains, according to the state-run China Daily.
The Qiang live close to the quake epicenter and it is estimated that 30,000 of them died in the disaster, about 10 percent of the group's population.

See a CNN photo tour of a recovering Sichuan »
The children were in school when they felt the tremor. They say they ran outside immediately and joined the crowds that had gathered.
Don't Miss
"They wouldn't let us go," Yan said. "It was such a mess."
Their aunt came to collect them. She told them their mother had injured her foot and was in the hospital. A few hours later, she told them the truth: Their mother was gone.
The children try to put on a brave face.
"I didn't cry," Qiang said.
"You cried once. I know it!" Yan countered.
"No, I didn't!" Qiang replied.
After the earthquake, their relatives sent them to boarding school in Beijing, funded by donations. Like so many families of Sichuan orphans, they refuse to put them up for adoption but do not have the means to care for them, either.
The Chinese government said more than 600 children were orphaned in the earthquake, but only 12 have been formally adopted.
The children's grandparents have official custody. They speak with them frequently, though it can be painful.
"I don't want to answer his calls," Qiang said, referring to his grandfather.
"He always asks us who we want to live with," Yan said. "If we say we don't want to live with him, he's not happy."
For now, there are no plans for the children to leave Beijing. They say they like their friends and their school.
Qiang is doing well in his math class, but Yan is struggling. She had to be pulled out of fifth grade because she could not pass the test for 7-year-olds -- a first grade level. She has since been taking lessons with a private tutor.
Their foster mom, Melody Zhang, has hope.
"She likes to dance," she said. "Hopefully, we can get her into the dance school."
In the meantime, they have many people looking after them. After hours of playing, Yan and Qiang sat down for lunch with their foster family: ham sandwiches and Cheetos.

"They are brother and sister, so they fight. But I know they have a strong bond," Melody Zhang said.
The group later heads off to the pool. These are the times Yan and Qiang seem the happiest, times they can escape but certainly not forget the life they lost in an instant.
E-mail to a friend

All About China • Earthquakes • Accidents and Disasters