By John Vause
CNN





YAOJIN, China (CNN) -- The two-story buildings in Yaojin are tall and straight -- they look well built and solid. People now live an incredibly normal life here, just 17 miles from the epicenter of the 7.9-magnitude earthquake that had flattened their village and left nearly 90,000 dead or missing one year ago this week.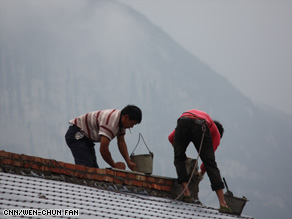 Villagers in Yaojin work on their new homes, which were funded by a U.S. organization.
All across the quake zone, reconstruction appears to be moving at a quick pace, though many survivors still live in shacks and prefabricated homes.
But the people of Yaojin are not among them.
Just three days after the quake, David Darg and his small team from Operation Blessing arrived. Everywhere they looked, they saw devastation.

The quake had destroyed homes, schools, shops and buildings -- entire cities -- across an area the size of Spain. Fifteen million homes were damaged and statistics from the education department in Sichuan province showed that 3,340 schools needed to be rebuilt, according to the state-run Xinhua news agency.

"This village is quite lucky," Darg said. "We wanted to focus our efforts and make an impact in one location rather than spread ourselves thin and help as many people as possible."
They chose Yaojin because the villagers had shown a gritty determination to help themselves, he said.
It was a big job for Operation Blessing, a US-based charity. Rebuilding the village would eventually cost around $US330,000. To raise funds, they created online profiles for the families and asked for private donors to sponsor one. Fifty-five homes were needed, at a cost of $US6,000 each.
"We had an amazing response from donors ... so we were able to go back to the village with good news and say 'yes, we're going to help you re-build.'"
Darg and his wife Naomi spent their first eight months of marriage in Yaojin. Her father, an engineer, came over from Australia to help shore up the buildings with extra steel. But almost all the manual labor was done by the villagers.

Watch CNN's John Vause tour Yaojin »
"We didn't have anything after the earthquake, my wife was hurt after the collapse," said Chen Shengjin. "Someone told us the foreigners were going to help us to rebuild so I came home straight away, after settling everything at the hospital, to find out what was going on."

Young and old, men and women worked from sun up to sun down, through the summer heat and bitterly cold winter. They poured concrete, lugged bricks and cement and did metal work, with some clad in gloves and construction helmets. Naomi Darg would spend her days doling out lotion to the women of the village to soothe their calloused hands.

"Each family contributed, so they came to help us and we did odd jobs like unloading bricks," Chen said. "We were all very happy and working together . . they're helping us rebuild and so we should try and help ourselves more."
The village of some 250 people lost four of their own during the quake - two of whom were in the neighboring county of Beichuan, which was leveled by the quake.

See a CNN photo tour of a recovering Sichuan »
"Quite frankly, the Chinese people are one of the most resilient people we've had the opportunity to work with. Given the opportunity, these guys were really, really motivated to help themselves out of a desperate situation."

Reconstruction is bustling across the region: More than 1 million housing units in cities and rural areas have been completed, while reconstruction on about half of the damaged hospitals and clinics has started, Xinhua quoted Yu Wei, a spokesman with the provincial government, as saying.

However, there are still people who remain homeless, though the Chinese government has not released official figures.

"The places that didn't get help, their houses aren't finished yet ... we're the only ones who moved into new houses," Chen said.

In Yaojin, they finished construction two months ago, allowing the families to move back in. For the first time, the village has its own sewerage system and natural gas piped into the houses for cooking.

"From the toilet, the bathrooms, the kitchen, it's just like in the city ... just like apartment blocks in the city," said village chief, Chen Shengshuang.

The villagers plan a commemoration on May 12 -- the one-year anniversary of the quake -- and Operation Blessing will donate live stock and farming tools so the villagers can start rebuilding their livelihoods, too.
"We've been able to go in and erase the fact that an earthquake wiped out their hope, wiped away their lives and their houses. And now they're living in a new village," Darg said.
E-mail to a friend

All About China • Earthquakes