(CNN) -- Thailand's prime minister told CNN Friday he will not lift a state of emergency until he is convinced anti-government protests that flared into deadly clashes this week would not return to the capital.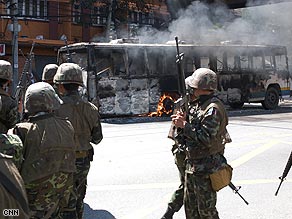 Thai troops pass a smoldering bus during unrest this week in central Bangkok.
Prime Minister Abhisit Vejjajiva, who imposed the state of emergency on Bangkok and nearby areas last weekend, made his comment shortly after a key political ally was shot in the head.
Sondhi Limthongkul, a political leader who helped topple former prime minister Thaksin Shinawatra -- who supports the protesters -- underwent surgery and was expected to recover, according to medics.
The shooting was the latest chapter in weeks of widespread political unrest in Thailand, pitting Thaksin loyalists against Abhisit's supporters.
Asked how long the decree will remain in place, Abhisit told CNN's Dan Rivers, "Days, days I would say," adding that it would not be lifted until there was no threat of a "return to chaos and violence."
"Obviously depending on the turn of events, but we think we are on course to achieve order and stability and we will do as best we can to lift it."
Abhisit declared the state of emergency Sunday after protesters forced the postponement of a summit of Asian leaders in the southern coastal city of Pattaya, embarrassing the government.
The emergency measure allows officials to arrest and detain protesters without a court order, and to restrict gatherings, authorities said.
Immediately after Abhisit's state-of-emergency declaration, dozens of protesters stormed the country's Interior Ministry and pelted Abhisit's car with rocks, chairs, flags and sticks as he escaped.
Abhisit admitted, "There was no question that my life was seriously threatened," and agreed there was a moment when he believed he might be killed.
Thousands of "red shirt" protesters have rallied for days to demand Abhisit's resignation. They have given the prime minister repeated deadlines to resign, but those have come and gone.
They have said Abhisit's government was not democratically elected and want him to schedule elections.
When asked why he didn't take stronger action against protesters sooner, he explained that the protests had begun peacefully three months ago and he and government officials had agreed to be patient and try to negotiate.
"But obviously once they've disrupted the ASEAN (Association of Southeast Asian Nations) meeting, a small group of protesters ... and did what they did to me," Abhisit said.
"What I thought I had to do then was to stop this, because you have to draw the line between the exercise of constitutional rights and just outright violence and rioting."

Abhisit acknowledged that he could have come down harder on the protesters after the ASEAN summit was called off.
"But who's to say that that if we tried to move in a tougher fashion, things wouldn't also get out of hand, but in a tougher fashion."
E-mail to a friend

CNN's Kocha Olarn contributed to this report.
All About Thailand • Thaksin Shinawatra