BANGKOK, Thailand (CNN) -- Reeling from violent street protests this week, Thailand's government Wednesday announced it has revoked the passport of former Prime Minister Thaksin Shinawatra, who's accused of helping stoke anti-government hostility.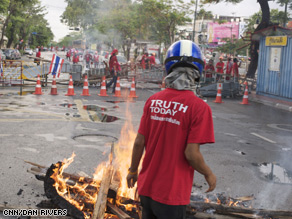 Violent protests have left two people dead and dozens injured in Thailand.
The state-run Thai News Agency on Wednesday quoted Tharit Charungwat, the foreign ministry spokesman, as saying Thaksin's passport was annulled from the date of April 12, when his supporters stormed a meeting hall and forced the cancellation of the ASEAN summit.
Members of the United Front for Democracy against Dictatorship -- anti-government protesters known as "red shirts" for the clothing they wear -- crowded the venue in the southern Thai city of Pattaya, where a summit of Asian leaders was to be held. The protests forced the postponement of the conclave, an embarrassment for the government.
Thaksin is living abroad after being deposed in 2006, but the government said Thai law states that a passport can be revoked "if it is deemed that the individual if permitted to remain abroad may cause damage to Thailand or others."
A foreign ministry official said that without a passport, Thaksin can apply for a temporary travel document called a certificate of identity if he wishes to return to his home country.
The "red shirts" have been working to dislodge current Prime Minister Abhisit Vejjajiva and get Thaksin back into power.
Thaksin was among 13 anti-government leaders who had arrest warrants issued against them for their role in the civil disturbances, the government said. Of the 13, three are in police custody. See images from the protests
Weeks of sometimes violent demonstrations began winding down when scores of riot police descended on the anti-government protesters Monday to take control of Bangkok.
About 135 people, including more than two dozen soldiers, were wounded in the skirmishes, the government said Tuesday. Two more people were killed when protesters clashed with demonstrators supporting the government.
The protesters stopped their demonstrations Tuesday after it had become clear they were surrounded and out-gunned by the Thai army -- which had already shown its willingness to open fire.
COLOR-CODED CONFLICT
RED SHIRTS
United Front for Democracy against Dictatorship
Support
Former Prime Minister Thaksin Shinawatra
Makeup
Mainly from outside the cities and the poor
Demand
More money to combat poverty

YELLOW SHIRTS
The royal color and symbol of the People's Alliance for Democracy
Support
Prime Minister Abhisit Vejjajiva
Makeup
Monarchists, wealthier Thais
Demand
Conservative economics and values and a strong military

Veera Musikapong, one of the leaders of the United Front for Democracy Against Dictatorship, told supporters to suspend their rallies until after the Thai New Year. He indicated that rallies might resume sometime after the new year, or Songkran, which began Monday and is traditionally celebrated over several days. It is expected to wind down by the end of the week.

Thaksin previously called for his followers to engage in a revolution but later pushed for an end to violence.

"We absolutely reject any form of violence, and reject the efforts of such enemies to tarnish what we stand for, to portray us as a mob, and to legitimize a crackdown on our people," he said in an open letter to the Thai people issued Tuesday.

Thaksin said the pro-democracy movement called on Thai demonstrators to stand down Tuesday to avoid a bloodbath.

"Confronted with tanks, thousands of soldiers and armed militias, and faced with the government's false pretext of restoring law and order, the leadership of the pro-democracy movement rightly assessed that both their people and innocent bystanders would be badly injured and even get slaughtered if they remained on the streets. The leaders' number one priority was protecting lives, and I commend them for putting the people first."

Watch Thaksin denounce government »
He emphasized that the pro-democracy movement must be peaceful.
"I reiterate my call here to all my fellow Thais that our struggle for democracy must be non-violent. We must build the future we seek through the force of our ideas and our principles, and resist all the suppressive and aggressive attempts by the state and state-sponsored thugs to provoke us and incite us to violence," he said.

After the end of the protests, Abhisit said the situation in the city has almost returned to normal but an emergency order is still in effect.
"The government does not view its success on this occasion as a victory over the protesters, and should this be considered a victory, it is one for all Thai people," he said.
E-mail to a friend

CNN's Dan Rivers contributed to this report.
All About Thailand • Thaksin Shinawatra