BEIJING, China (CNN) -- Two men were executed Thursday for an attack on police that killed 17 in northwestern China in the run-up to the 2008 Olympics, state-run media reported.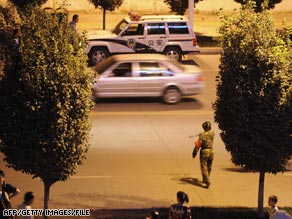 Chinese police patrol on August 4, 2008, in the area of Kashgar where an attack killed 17 people.
Abdurahman Azat, 34, and Kurbanjan Hemit, 29, were sentenced to death on December 17 after being convicted of homicide and illegally producing guns, ammunition and explosives, the Xinhua news agency said.
The Uyghur men, who were armed with knives, axes and explosives, rammed a stolen truck into a group of 70 police officers in Kashgar, Xinjiang, authorities said. They then flung explosives at a police station and stabbed officers. Fifteen people were injured in the attack, in addition to the 17 killed.
Azat and Hemit were executed at an unknown location, the news agency said. It did not say how they were executed.
The August 4, 2008, attack happened four days before the Olympics. Chinese authorities regarded the violence as a terrorist act, saying they knew of five groups in the region that were plotting to sabotage the Olympics, Xinhua said.
Don't Miss
The Xinjiang Uyghur Autonomous Region -- also called East Turkistan -- is home to a Sunni Muslim ethnic minority. Uyghurs in Xinjiang are supposed to have regional autonomy, as guaranteed by China's constitution, but some seek independence.
Millions of Han Chinese, the country's dominant ethnic group, have migrated into Xinjiang over the past 60 years, prompting complaints that they dominate local politics, culture and commerce at the Uyghurs' expense. The dissatisfaction has turned violent at times, including several bus bombings in 1992 in the provincial capital, Urumqi.
Officials blamed such incidents on Uyghur groups seeking an independent Muslim state, but China says few Uyghurs support the separatists.
E-mail to a friend

All About China • Summer Olympics • Terrorism