By Rachel Oliver
For CNN





HONG KONG, China (CNN) -- Bamboo may prove to be more than the food staple for the giant panda. Considered to be the world's fastest-growing woody plant, it could be a key component in lifting thousands of people in the developing world out of poverty.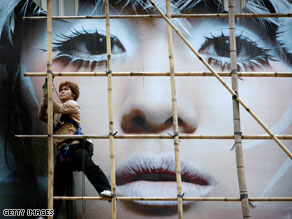 Hong Kong skyscrapers are often covered in bamboo scaffolding, but can the plant be as well used in construction and high-end products?
According to the International Network for Bamboo and Rattan (INBAR), as many as 1.5 billion people currently "depend in some way on bamboo and rattan," and several organizations are now investigating how growing bamboo in economically deprived areas can boost the income of the residents, particularly small-scale farmers.
One of them is Hanoi, Vietnam-based Prosperity Initiative (PI). Many people can escape poverty by increasing bamboo production in rural areas and by linking local communities with domestic and foreign buyers, the non-governmental organization believes.
PI aims to bolster the Mekong region's bamboo industry sufficiently enough to bring 750,000 people out of poverty by 2020. It sounds a tall order, but Tim de Mestre, head of Prosperity Initiative's Mekong bamboo program, believes it is "both realistic and achievable."
"Income poverty can only be solved by sustainably increasing household incomes," de Mestre said. "The poor have two assets they can use to do this: their land, to grow commodities, and their labor."
China currently produces 80 percent of the world's bamboo and consumes 60 percent of it, according to PI. Smaller and poorer bamboo-producing countries such as Vietnam are in a prime position to "out-compete China" by supplying industries with raw materials at lower prices, De Mestre said.
But why would growing bamboo increase income levels any more than any other type of crop? Its advantage, proponents say, is its versatility and how quickly it can grow.
Bamboo is a genuinely renewable resource which grows extremely fast, is incredibly strong and has a vast number of practical uses -- particularly in the building industry.
Around 1 billion people live in bamboo houses, according to INBAR. Deforestation of tropical forests and illegal logging will also make people search for more sustainable alternatives in the future, such as bamboo.
PI's strategy is to refocus the bamboo industry on "higher-value products": That is, to concentrate on producing larger items, such as flooring, furniture or building materials.
Such a tactic could drive up the value of bamboo in Vietnam, Laos and Cambodia, benefiting small-bamboo farmers, as well as those finding employment in the bamboo production industry.
PI says its model is already working in Vietnam, and claims bamboo price increases from 2005-2007 have already been responsible for lifting 20,000 Vietnamese out of poverty. The price of Chinese bamboo has also been boosted in recent months by the strengthening yuan.
News like that will be welcome for poor bamboo farmers as the numbers for industrial bamboo products such as flooring are particularly appealing for them, de Mestre said.
"Typically 60 percent of the sector's output value is raw material cost."
That means for every $1 million worth of bamboo products produced, $600,000 of it goes to the farmers growing the raw bamboo, he said.
The global bamboo industry is currently worth around $11 billion per year and is tipped to reach $15-$20 billion per year by 2018, according to PI. The market for industrial bamboo products is currently only valued at around $500 million a year, but PI estimates it could grow to $4 -5 billion in the next 10 years.
For the bamboo industry to thrive, however, it needs to find large export markets.
Currently, demand for Vietnamese bamboo products is domestic-driven. That may take some time, said Darrel DeBoer, a California-based architect who is one of the biggest proponents of bamboo usage in buildings and structures in the United States.
"It's definitely a different way of thinking than most people are accustomed to here," DeBoer said. From an environmental-friendly perspective, bamboo homes are attractive, said DeBoer, but not enough people in the United States are aware of the option.
"The building industry is very slow to change and you kind of have to drag them along," he said. "We are at the very early phase of basically letting people know that it is possible."
For Travis Perkins, one of the biggest building suppliers in Great Britain, heavy duty bamboo product development is being prevented by a lack of demand it sees in the marketplace.
According to Peter Cook, the company's timber and joinery product director, its product development has been "confined to engineered flooring," which Cook says is "quite widely available."
"But there has been little demand for it to be put forward as an alternative to any other timber products for use in construction," Cook said.
Bamboo also has an image problem, DeBoer acknowledged. Even in bamboo-growing nations such as China and India, bamboo is often widely referred seen as the "poor man's timber."
Often the wrong kind of bamboo is used for buildings, just because it is a local and abundant source. Widespread industry demand for ethical products will be crucial to supporting the bamboo industry, de Mestre said.

What he wants to see is "a coordinated shift from the buyer down to farmers toward demanding only sustainably harvested and even pro-poor bamboo products."
"This requires coordinated action that is not easy to achieve, but without it, the industry risks growing unsustainably and the benefits to everyone involved will be lost in the future," de Mestre said.
E-mail to a friend