BEIJING, China (CNN) -- Rain fell in four provinces this week, but China will still have to take serious measures to combat what some have called the worst drought in half a century, government officials said.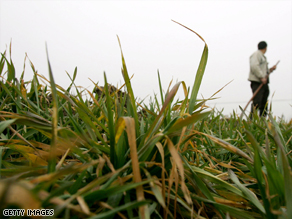 Drought has hit major wheat-growing provinces in northern China since early January.
"Drought is indeed very severe, but thanks to the timely and effective efforts we have taken, we have minimized the impact," Vice Minister E Jingping told reporters Tuesday. "If there is no significant rainfall in the next 15 days, the wheat-producing regions will be impacted more severely and we will face a more daunting task."
Northern and central China have had little precipitation since November. Many places have not had rainfall for more than 100 days.
In the drought, more than 4.3 million residents face a shortage of drinking water, as do two million livestock, officials said
The drought has hit at least 12 provinces, including the wheat-producing areas in Henan, Anhui and Shandong provinces. Chinese media says the total area affected has reached 1,370 million hectares (3,385 million acres).
Over the weekend, Chinese soldiers loaded rockets with cloud-seeding chemicals and fired them into the sky over drought-stricken areas in the effort to produce rain.

Over the long term, China plans to divert water from its two longest rivers to drought-stricken areas. However, it is still going to be difficult to get water to mountainous areas and remote farmland. Many farms in China rely on rain, because irrigation systems are poor.
Some places are getting 80 percent less rain than they normally do, according to the Flood Control and Drought Relief Office.
E-mail to a friend

CNN's Jaime Florcruz contributed to this report.
All About China