(CNN) -- It's not just the number of people fishing, but the level of poverty in a local community that leads to overfishing of coral reefs, according to a new report.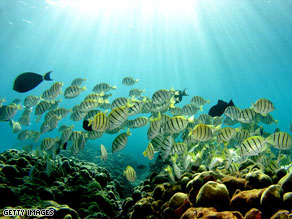 A new study of western Indian Ocean coral reefs has linked poverty to overfishing.
Studying coral reefs in the western Indian Ocean, the researchers of the report published in "Current Biology" found that overfishing is at its worst in areas that are socio-economically underdeveloped.
According to the report, in these areas fish numbers were only one-quarter what they were in places with either higher or lower levels of development. However, it is not necessarily the poorest and most underdeveloped areas that are guilty of the worst overfishing.
People in moderately developed places that have few amenities such as road, schools and electricity often tend to depend less on fishing, but they also have more access to engine-powered boats, spear guns, and other technologies that can rapidly deplete some fish species, said Joshua Cinner of James Cook University in Australia in the report.
Those locations also tended to have fewer traditional village rules to limit fishing and national governments that are too weak to effectively enforce fishery regulations.
"In short, they have the technology to plunder their reefs, but not the institutions to protect them or the levels of development that allow for sufficient alternatives to fishing," Cinner said.
The report suggests that the sustainability of coral reefs will depend in large part on whether developing countries can improve their well-being without falling into a poverty trap -- a situation when communities are forced to degrade the very resources they rely on because of a lack of alternatives for making ends meet.
"Those conditions can create a cycle of poverty and resource degradation, and the danger is that, if pushed too hard, reefs may lose their ability to bounce back when and if economic conditions improve," Cinner said.
"For communities already in a poverty trap, governments and donors need to help them get out and couple this development with good governance and strong institutions," he said.
The complexity of the reef ecosystem is an additional factor that can determine how fish stocks hold up to fishing, the report also noted.
Better news, said Cinner, is that the current economic crisis could provide a opportunity for western governments, non-governmental organizations (NGOs), and donors to restructure aid and conservation efforts to better tackle causes of reef decline.
While some coral reef conservation projects already do try to consider socioeconomic issues and provide people with alternatives to fishing, the new findings suggest that those efforts likely won't be enough.
"Reef fisheries don't seem to get better until very substantial improvements in human welfare have been made," Cinner said.
"There are certainly some real challenges facing reefs, the path to their destruction is not inevitable. They can be sustained with the right combination of approaches, which includes promoting strategies such as fishery closures while at the same time tackling poverty as a root cause of the degradation of reefs and their fish stocks," Cinner said.
E-mail to a friend

All About Indian Ocean • Nature and the Environment • Poverty