BANGKOK, Thailand (CNN) -- Oscar-winning actress Angelina Jolie has asked Thailand to permit greater freedom for thousands of refugees stuck in camps after fleeing neighboring Myanmar, according to a U.N. statement released Friday.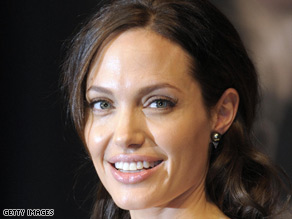 Angellina Jolie and Brad Pitt visited refugees in northern Thailand on Wednesday.
Jolie and actor Brad Pitt traveled to a refugee camp in northern Thailand on Wednesday in effort to draw international attention to what the U.N. has called "restricted" movement of roughly 111,000 refugees housed in nine camps along the Thai-Myanmar border, the statement said.
Jolie has spent several years as a goodwill ambassador for the U.N. High Commissioner for Refugees. She said her passion for helping refugees, whom she calls "the most vulnerable people in the world," was sparked in 2001 during visits to Cambodia."
The U.N. estimates more than 5,000 people have fled to northern Thailand's Mae Hong Son province between 2006 and 2007.
A recent CNN investigation found evidence of the Thai army towing an apparent boatload of 190 Rohingya refugees -- a Muslim minority group from Myanmar -- out to sea, prompting Thai authorities to launch an investigation.
E-mail to a friend

CNN's Dan Rivers and Kocha Olarn contributed to this report.
All About Angelina Jolie • Thailand