(CNN) -- An Australian pilot landed a company plane in the ocean off Darwin on Friday, in a water landing that prompted comparisons to last month's landing of a US Airways jet in New York's Hudson River.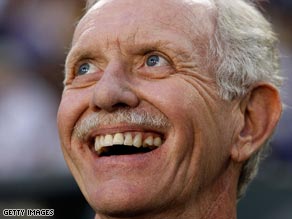 The Australian pilot has been compared to U.S. hero Chesley B. "Sully" Sullenberger, pictured above.
The Australian pilot also encountered problems shortly after takeoff. The twin-propeller plane was carrying the pilot and five passengers when it went down shortly after leaving Darwin International Airport, said Neville Blyth, a senior transport safety investigator with the Australian Transport Safety Bureau.
All those aboard were unhurt and managed to walk to shore, he said. Pictures showed the men from the plane soaked and carrying bags and equipment as they walked through the water.
"It's essentially a good story," Blyth said.
The ATSB is deciding whether to investigate, he said, and the cause of the incident is still unknown.
The Piper Chieftain plane was on its way to the town of Maningrida, about 500 kilometers (310 miles) east of Darwin, according to its owner, Australian information technology company CSG.

Watch the plane ditch in Darwin Harbor »
Hero pilot on 'Larry King'
Watch the heroic US Airways pilot and crew in their first live primetime interview.
Tuesday, 9 p.m. ET on CNN

"We would like to congratulate the pilot following all emergency landing and evacuation procedures and his very professional handling of the situation," a CSG statement said.
Darwin is in Australia's Northern Territory, on the coast of the Timor Sea. The city's airport is near the water.
The plane's trajectory took it over the water, giving the pilot limited opportunities to ditch the plane on land, Blyth said. He said the ocean was a safer option for landing than the beach, where the firmness of the sand was unknown.
"Personally, I think the decision was appropriate," Blyth said.
Australian media dubbed the captain of the Darwin plane "Sully Lite," comparing him to the captain of the US Airways Airbus jet that landed safely in the Hudson.
Pilot Chesley B. "Sully" Sullenberger was hailed as a hero for landing the plane safely and ensuring that all 155 people on board survived.

Asked about the comparisons, Blyth said the connection was tenuous.
"The correlation for a water landing is as close as it gets," he said.
E-mail to a friend