ISLAMABAD, Pakistan (CNN) -- Suspected Taliban militants blew up a bridge early Tuesday in the border region between Pakistan and Afghanistan, suspending NATO supply lines.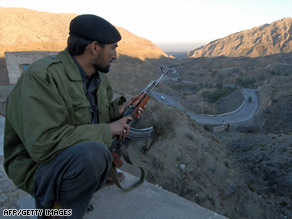 A Pakistani policeman sits near a police check post in the tribal area of Khyber Agency on February 12, 2008.
The blast occurred about 6 a.m. Tuesday in the Khata Kushta area of Jamrod in the Khyber Agency in Pakistan Federally Administered Tribal Areas. The bridge connected Landi Kotal and Jamrod. Transport has been suspended, and authorities are assessing damages.
Engineers also are on location and work is under way to open a temporary route. Details were unclear on the size of the blast, but most of the iron bridge was destroyed, local officials said.
No deaths or injuries were immediately reported.
Authorities are looking for alternate supply routes for NATO supply trucks and traffic going from Pakistan to Afghanistan, because the route is the main one between the two countries. All vehicles must cross the bridge when going from Peshawar toward the crossing point into Afghanistan.
This is the first time militants have targeted a bridge or roadway in efforts to disrupt NATO supplies, a local official said.
Previously, militants have targeted truck depots where supply convoys wait to cross into Afghanistan or have attacked trucks on their way through Pakistan and into the Khyber Agency.
Don't Miss
On Monday, at least 35 suspected militants were killed as part of ongoing operations in the Swat Valley, the Pakistan military confirmed to CNN.
Government security forces engaged 70 to 80 suspected militants with artillery and attack helicopters about 11 p.m., after observing their movements in the Khwaza Khela District of the Swat Valley, the military said.
Though only 35 militants were confirmed dead, many more were injured in the attack and the death toll was expected to rise, the military said.
Also on Monday, a Taliban FM radio sermon announced that militants had killed 16 Pakistan army soldiers in the Swat Valley. Officials at the Swat media center said that report was false.
E-mail to a friend

All About Afghanistan • Afghanistan War • Pakistan • The Taliban • Khyber Agency