ISLAMABAD, Pakistan (CNN) -- Pakistani militants on Monday kidnapped John Solecki, a senior U.N. official, in a brazen daylight attack that killed his driver, the United Nations said.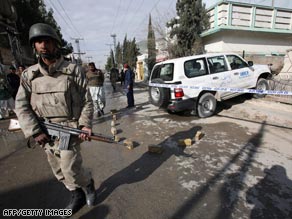 A Pakistani paramilitary soldier stands guard where a U.N. official was kidnapped in Quetta, Pakistan, on Monday.
The U.N. conveyed its "extreme shock and dismay" over the attack, and said in a statement that it is "taking all possible measures to secure (Solecki's) release."
Solecki, an American, heads the U.N. High Commissioner for Refugees office in Quetta, a city in southwestern Pakistan that is the provincial capital of Balochistan, the U.N. said.
He was abducted at about 8:30 a.m. Monday while on his way to work from his house, Quetta police said.
His driver, Syed Hashim of Quetta, was injured in a gunbattle and later died at a hospital, police said.
"We strongly condemn this attack on humanitarian workers in Pakistan who have been doing their utmost to deliver their humanitarian mission," the U.N. said.
The U.N. released both men's names after their families had been contacted.
E-mail to a friend

All About Pakistan • United Nations High Commissioner for Refugees