By Rachel Oliver
For CNN





(CNN) -- Why don't you tell your boss you are going to work from home this year, and it's not just for your sake, but for the sake of the environment.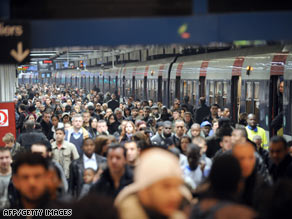 Don't you wish you had stayed home instead? Commuters at the Gare du Nord train station in Paris.
If you compare the energy used to power office facilities (such as computers, heating, lighting and other building management services) to the energy consumed when commuting to the office, it could be that the best way to make your office space eco-friendly may be to not go there at all.
A study released in 2008 by Sun Microsystems suggests that the real climate killer in office life is the employee's daily commute. It concluded that as much as 98 percent of its employees' work-related carbon footprints were generated before they even reached the office.
By contrast, when they reached the office, Sun Microsystems said the energy it took to power their equipment represented just 1.7 percent of employees' carbon emissions.
Like IBM, Sun Microsystems is a proponent of telecommuting, with 56 percent of its employees working from home one or two days a week. Because of this, it says it cut its CO2 emissions by 29,000 metric tons in 2007. It also says it saved the company up to $68 million that year in saved property costs. With fewer employees at work, you need less office space to house them.
For technology companies such as IBM and Sun, employing remote workers is fairly straightforward. As long as staff are equipped they can carry on work as usual, regardless of where they are. But can this strategy be applied to every type of business?
"It is dependant on the nature of the business and the nature of the work involved," says Andy Lake, who heads up Flexibility, a non-profit organization promoting flexible working practices in the United Kingdom.
But despite the fact that telecommuting has been encouraged more by IT, telecom and banking companies than anyone else, Lake says that does not mean that manufacturing firms can't get in on the game.
"Any job is made up of a number of tasks -- some are place-critical and some are time-critical," he says.
"A manufacturing company in a developed country, for example, will actually have most of the nuts and bolts stuff done in other parts of the world, anyway."
And every business, regardless of its sector, will suffer from one common phenomenon, says Lake, which not only impacts economics but the environment, too: occupancy rates. In a typical work week, 8 a.m. to 6 p.m. Monday to Friday, the occupancy rates of traditional offices are only 30 percent, he says. The rest of the time, staff are either at home, on holiday, enjoying their weekends, taking sick leave or just not fully utilizing their desk time.
"The whole idea of bunging people together, factory-style for all of the time is very wasteful," Lake says. "In an electronic age, to have people traveling collectively billions of miles a year to sit in front of a computer, there's a kind of madness there, isn't there?"
Working from home does combat one of the single biggest environmental headaches facing the world today -- transportation. But until a significant enough number of a company's employees regularly work from home the problems of high energy consumption related to an office space will still exist.
One idea gathering momentum for greening office space is to retrofit them to make them more energy-efficient. The world's biggest commercial building, for example, Chicago's Merchandise Mart and one of the world's tallest buildings, Sears Tower, are both planning to implement energy-saving initiatives. It won't be cheap. According to Merchandise Mart, it will cost $50 million over 15 years to make its building greener.
But costs vary greatly, says Andrew Thomson, chief executive officer of the Hong Kong-based Business Environment Council (BEC). The point is what work is actually being done.

"There is always cost, but the question is what the payback is," says Dr. Thomson. In some cases it can be done fairly cheaply, according to the Earth Policy Institute. It cites Adobe Systems as an example of a company that managed to retrofit its corporate headquarters in California for a mere $1.4 million. Adobe's energy savings payback from its retrofit investment, according to Earth Policy was just 14 months.
Another approach is to encourage a new industry of high tech "Green buildings," with everything you could expect from a 21st century eco-friendly structure. But don't expect too much too soon. According to the Commission for Environmental Cooperation, "green buildings" only account for around 2 percent of newly constructed non-residential buildings in the U.S.
E-mail to a friend

All About Environmental Policy • Energy Technology • Commuting