NEW DELHI, India (CNN) -- Phone records, captured weapons and statements by the sole surviving suspect in November's Mumbai massacre are among the evidence India's government handed over to Pakistan on Monday, its foreign ministry announced.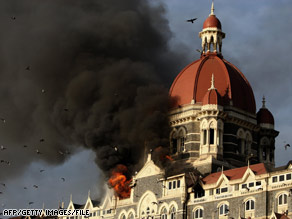 Flames and smoke gush from the Taj Mahal hotel in Mumbai, India, on November 27.
India has said Islamic militants trained in Pakistan were behind the November 26 attacks on Mumbai, which left more than 160 people dead in a three-day siege of India's financial capital.
Pakistani officials have promised to cooperate with the investigation, but have insisted that India show it the evidence supporting its case.
India delivered what it says is that evidence to Pakistani officials in New Delhi and Islamabad on Monday morning, External Affairs Minister Pranab Mukherjee said.
"We are also briefing all our friendly countries," Mukherjee said. "I have written to my counterparts around the world giving them details of the events in Mumbai and describing in some detail the progress that we have made in our investigations and the evidence that we have collected."
Indian Foreign Secretary Shiv Shankar Menon called on Pakistan to cooperate fully in what he stressed was an ongoing investigation.
"We would like to see real action [from Pakistan] as soon as possible," Menon said at a news conference Monday.
Declaring that most of the investigation "now has to be done in Pakistan," Menon avoiding linking any officials directly to the attack but he said, "It's hard to believe something of this scale -- that took so long in the preparation, that amounted, really, to a commando attack -- could occur without anybody anywhere in the establishment knowing that this is happening."
Don't Miss
Menon said India's investigation has focused on groups in Pakistan because "the links lead back to Pakistan -- the don't lead into other countries."
Pakistan has an obligation under international laws and treaties to "render legal assistance. That extends up to and it includes extradition," he said.
India's goal, Menon added, is to "bring the perpetrators to Indian justice." Asked by a reporter if that meant suspects should be brought to India for trial, Menon said, "Where else is there Indian justice?"
According to the ministry, the documents include records from the interrogation of the sole surviving suspect in the attacks, a Pakistani citizen; data retrieved from mobile phones and satellite navigation systems; and weapons and equipment recovered from the attackers.
"It is our expectation that the government of Pakistan will promptly undertake further investigations in Pakistan and share the results with us so as to bring the perpetrators to justice," the ministry said in a statement announcing the handover.
Pakistan's foreign office responded with a statement saying it was "determined to uncover the full facts pertaining to the Mumbai terrorist attacks."
The statement said "the government of Pakistan will evaluate the information provided by India so far." Without going into specifics, the statement added, "Pakistan and India must cooperate in the investigations."
The Mumbai killings fueled renewed tensions between South Asia's long-time rivals, who have fought three wars since independence and conducted tit-for-tat nuclear weapons tests in 1998.
Indian authorities say Mohammed Ajmal Kasab, the surviving suspect, has told investigators he was trained by Laskhar-e-Tayyiba, an Islamic militant group founded to battle Indian rule in the disputed Himalayan territory of Kashmir.
The group was banned following a 2001 attack on the Indian parliament that brought India and Pakistan to the brink of war.
New Delhi has demanded that Pakistan hand over about 20 wanted militant leaders.
Pakistani security forces rounded up more than a dozen militant leaders in December, but President Asif Ali Zardari told CNN that while he was willing to let his security officials take part in a joint investigation into the attacks, any suspects would face trial in Pakistan.
E-mail to a friend