BANGKOK, Thailand (CNN) -- Investigators posted photos of the unidentified victims of a catastrophic nightclub fire outside a Bangkok police station Friday in hopes that relatives would be able to identify them.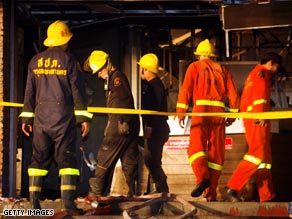 Rescue officials survey the scene of the nightclub fire in Bangkok, Thailand.
The bodies of 14 women and five men remain unidentified after Thursday morning's blaze at the Santika nightclub, police said. The fire broke out shortly after midnight as about 1,000 revelers were ringing in the new year and marking the club's closing night.
Police said Friday that 59 people were killed. Most of the victims died from smoke inhalation or were trampled in a rush to get out of the club.
Graphic photos of the unidentified dead -- many of whom suffered severe burns -- were posted outside Bangkok's Thong Lor police station, where authorities set up a temporary victim identification center. Relatives wanting to claim a body had to show a dead person's identification or dental records, or could provide blood to match the victim's DNA.

Watch the fire engulf the building »
Of the 40 identified fatalities, all but one -- a Singaporean -- were Thais. But hospital officials said 41 of the 229 injured survivors were foreign nationals.
Steven Hall, a Briton who was hospitalized after the fire, told CNN that flames began to spread along the ceiling above the stage where a band and DJ were performing. But some people appeared to believe it was part of the performance.
"At the same time there were people rushing to get out, there were other people who seemed to be lacking a sense of urgency and didn't seem to realize what was going on," Hall said.
The blaze started near a stage where fireworks were being used as part of a performance on the club's closing night, police Maj. Gen. Chokchai Deeprasertwit said. iReport.com: Eyewitness captures scene of deadly aftermath
"It may have been caused from sparks, but we don't know if it was sparks from guests or from the night club's countdown display on the nightclub stage," he said.
Hall said his wife escaped ahead of him, but he got caught in a crowd.
"The lights went out, and at that moment, my back started burning and I was breathing in hot air," he said.

Watch Steven Hall describe his experience »
The club is located in one of Bangkok's busiest commercial districts. Its Web site features images of bands and DJs performing on both indoor and outdoor stages, and says that it "innovatively blends the comfort of nature with the excitement of the Bangkok nightlife."
The site still has an advertisement for the club's New Year's party, which was named "Goodbye Santika."
E-mail to a friend

CNN's Kocha Olarn contributed to this report.