(CNN) -- Away from sea, cargo ship Capt. Richard Phillips loves to cut loose with family and cheer his New England sports teams, his family says.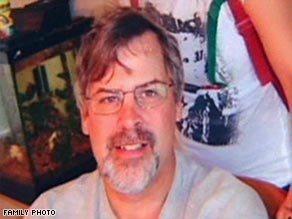 Capt. Richard Phillips was being held by pirates in a lifeboat Friday, two days after his ship was hijacked.
But at work, he's all business and devoted to his crew, as evidenced by his apparent decision to let pirates take him hostage, relatives say.
Phillips was being held on a lifeboat Friday by four pirates who had hijacked the Maersk Alabama early Wednesday more than 300 miles off the coast of Somalia, officials said.
His relatives, citing reports from crew members and authorities, have told reporters that Phillips offered himself to the pirates to save the crew.
"That is what he would do. That's just who he is, and his responsibility as the captain," one of his sisters-in-law, Gina Coggio, told ABC's "Good Morning America" on Thursday.
"That's my brother-in-law, thinking of his crew, ship and cargo as well. That's Richard," said another sister-in-law, Lea Coggio.
Phillips showed another side of himself late Thursday when he jumped from the lifeboat on which pirates were holding him, U.S. officials said.
They said the captain tried to swim for the USS Bainbridge, a U.S. Navy guided missile destroyer that was nearby, but pirates jumped in after him and pulled him back aboard the lifeboat.
On Friday, in Phillips' hometown of Underhill, Vermont, the captain's escape attempt was seen as a sign of hope.
"Maybe he can do it again and the Navy will be more prepared that he might be doing something unexpected," family friend Laura Wells said.
"Everyone's been very hopeful it's gonna have a happy outcome," said the Rev. Rick Danielson of St. Thomas Church in Underhill.
Phillips' friend, Capt. James Staples, said Phillips would persevere through the ordeal.
"He's not gonna lay down. He's gonna stay and fight until this is over and resolved and he's back home safely," Staples said.
Phillips has been sailing for more than 20 years, according to his wife, Andrea Phillips, who spoke to CNN affiliate WCAX-TV on Wednesday after hearing the ship had been boarded but before she knew the pirates were holding him.
"I have faith in my husband," she told the station. "I know he'll do well with the crew. He'll do well to keep everybody safe and himself safe. You know he's a smart man, and I know he'll be all right."
The couple has two adult children. Andrea Phillips said her husband had warned her shortly before the hijacking that pirate activity near the Horn of Africa was reported to have been high. Several days ago, the U.S. Navy warned ships in the area that pirates were increasingly operating farther and farther offshore.
"You always hope, 'Never me,' " she told WCAX.
Before being a ship captain, Phillips was a Boston cab driver, his relatives say. Lea Coggio told "Good Morning America" that he has a fun-loving, risk-taking side.
"He liked going one-way streets the wrong way," she told the program. "He's fun to be around, easy-going lovable guy. ... There'll be a good story to tell when he gets through this, but on board, it's serious business."
His wife's family was close to him "right off the bat," his mother-in-law, Catherine Coggio, 79, told the Boston Herald on Wednesday.
"He's a really good father, husband and provider," Catherine Coggio said. "His business is serious to him when he's out to sea, but at home, he's a lot of fun."
She told the Herald that he once thought about studying international law, but that "beautiful sunrises and sunsets" drew him to sea.
"He's been everywhere in the world. He hasn't even talked about retiring," she told the Herald.
On Thursday, a former crew member of the Maersk Alabama echoed relatives' sentiments that Phillips was devoted to his crew.
"I was amazed when I heard that he offered himself up to the pirates, but he's definitely the kind of person to make that sacrifice," the former crew member told CNN, speaking on condition of anonymity.
One of the ship's officers told CNN in a phone interview that the crew had overpowered one of the pirates after the hijacking and eventually released him in hopes of securing Phillips' freedom. But the pirates didn't release Phillips, the officer said.
The Maersk Alabama was on its way to the Kenyan port of Mombasa loaded with food aid when the pirates attacked it Wednesday morning. It was the first time in recent history that pirates targeted a U.S.-flagged ship.
The vessel was carrying relief supplies for USAID; the U.N. World Food Program; and the Christian charities WorldVision and Catholic Relief Services. The U.N. agency said its portion of the cargo included nearly 4,100 metric tons of corn-soya blend bound for Somalia and Uganda, and another 990 metric tons of vegetable oil for refugees in Kenya.
E-mail to a friend

All About Pirates • U.S. Navy • Maersk Alabama