(CNN) -- Heavy rains swamped the Gulf Coast and a blizzard dumped more than 2 feet of snow in parts of the Plains on Saturday.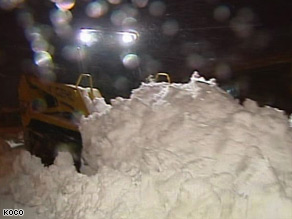 Crews with snowplows struggled to clear roads in Oklahoma, where a foot of snow fell.
The blizzard cut power, stranding drivers and prompting governors in Kansas and Oklahoma to issue disaster declarations.
At least two deaths were blamed on the storm.
The death of a person in a traffic accident in Marion County, Kansas, was blamed on icy roads Friday. One traffic death was reported in the snow near El Reno on I-40 Friday, Oklahoma Emergency Management officials confirmed.
The heaviest snow and ice accumulated in south central and southwest Kansas. In Pratt County, 28 inches of snow fell, with snow drifts reported up to 6 feet. At least nine other counties reported 2 feet of snow, the Kansas Adjutant General's office said.
About 17,000 customers in Kansas lost electricity, more than half of those in Sedgwick County.
The storm left some travelers stranded and in need of last-minute hotel accomodations, the front desk manager at the Econolodge in McPherson said.
"We have two honeymoon suites open, but other than that we're fully booked. We normally have 84 rooms," iReporter Sally Kelley said.
The housekeepers who made it to work were all outside shoveling, but they struggled to keep up with the snow as it continued falling Saturday afternoon.
"We haven't had people getting mad at us. The people have been great but I think they're really frustrated."
The Adjutant General's office said whiteout conditions and blowing snow made driving hazardous. The Kansas Department of Transportation shut down several roads in the western and south central part of the state. National Guard Humvees were used to move medical personal and patients to a hospital in Seward County.
Don't Miss
In Oklahoma, where more than a foot of snow fell, Gov. Brad Henry declared a state of emergency in 50 counties.
More than 3,000 Oklahoma households were without power, state officials said.
The State Department of Transportation had several roads blocked in the state and others remained impassible.
"The only people who can get out of their driveways have 4-wheel drive," said iReporter Mark Rennie of Alva, Oklahoma.
Rennie said the snow began piling up Friday night. He woke up to find more than a foot of snow in his front yard.
"They're out there working. If you get on Oklahoma Boulevard, two lanes are open. As you get to the smaller side roads, one lane's open."
Officials in Harper County, in the northern part of the state, reported a partial roof collapse at a nursing home and collapses at a home, two businesses and a school gym. Another partial roof collapse was reported at a furniture warehouse in northern Woodward County. No injuries were reported in any of the incidents.
In Missouri, the Kansas City International Airport was temporarily closed because of winter weather conditions.
Meanwhile, rain along the Gulf Coast battered areas around Mobile, Alabama, and Biloxi, Mississippi.

Watch how the rain is blocking roads in Mobile, Alabama »
Mobile County Emergency Management Director Walter Dickerson said 4 to 6 inches of rain fell on already saturated ground.
Fifteen to 20 roads around Mobile were closed, and several people had to be rescued after flash flooding trapped their cars.
In Mobile, heavy rains caused a section of roadway to collapse. Three cars ended up in a large sinkhole, including one vehicle that landed on top of another. No serious injuries were reported.
Dickerson said a temporary shelter may be opened for residents displaced by the high waters.
In nearby Baldwin County, Alabama, an apartment complex was evacuated and some main roads were closed.
The main roadway leading into Biloxi, the Interstate 10 loop, was closed for several hours early Saturday before waters receded and allowed traffic to resume. But more than a dozen other roads around Harrison County remain blocked.
Harrison County, Mississippi, Emergency Management Director Rupert Lacy said water entered some homes in his area.

Teams were out assessing the damage. Lacy said waters of three rivers were rising, including the Biloxi and Wolf rivers. There were no mandatory evacuations, but Lacy said some residents chose to leave on their own.
Roads were also impassable in some parts of the Florida Panhandle. Officials in the Atlanta, Georgia, metro area, which is under flood watches and warnings, were keeping an eye on surging rivers and creeks.
E-mail to a friend

All About Mississippi • Alabama • Florida Panhandle