(CNN) -- Flooding threatened up to 6,000 homes Monday in Fargo, North Dakota, where residents rushed to fill more than 1 million sandbags to stem the flow of the Red River, city officials said.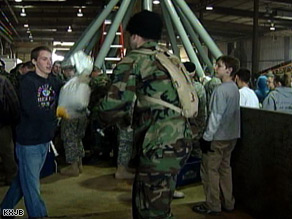 Crews ready sandbags in Fargo, North Dakota, where flooding threatened up to 6,000 homes Monday.
"So far, we have 310,000 bags filled and ready to go, but that's a long way from the 1.5 million sandbags we need to fight this flood," City Administrator Pat Zavoral said Sunday.
The National Guard and FEMA staff have been dispatched to help.

See a map of the threatened area »
Rainfall over the next few days will determine whether the worst-case scenario happens. A mix of rain, snow and snow showers were forecast. Temperatures at or below freezing would help slow any runoff.
The city has closed a number of bridges over the Red River in the past week. iReport.com: Are you there? Share your story
Water and sewage-treatment facilities were at risk as the river was expected to crest at about 40 feet over the next week or so. Flood stage is anything above 17 feet.

A record of 40.10 feet was set in April 1897. Fargo experienced similarly high flood waters in 1997 and 2001.
About 40 miles to the south, Wahpeton, North Dakota, and Breckenridge, just across the border in Minnesota, are experiencing major flooding. Dozens of communities in the Red River basin in both states are threatened by rising waters.
E-mail to a friend

CNN's Jacqui Jeras contributed to this report.