(CNN) -- Heavy snow -- close to a foot in some cities -- blanketed much of the Eastern Seaboard on Monday and spelled a nightmare for morning commuters battling strong winds and freezing rain.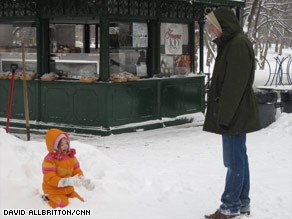 A girl plays in the snow Tuesday in New York City, where schools closed for the first snow day in five years.
The heaviest snow, up to 15 inches, was forecast for the heavily populated Interstate 95 corridor between Boston, Massachusetts, and Providence, Rhode Island, northeast Connecticut and north into the Merrimack Valley in northeast Massachusetts, the National Weather Service said.
The storm covered the New York area in a foot of snow, and the New York City public school district declared its first snow day in five years.
The city's mayor, Michael Bloomberg, encouraged his fellow New Yorkers to use the snow day to go out and shop in support of local businesses.
Speaking at a news conference Monday afternoon, Bloomberg announced that 2,000 city workers continue to work around the clock to clear the snow-covered roads. The mayor noted that plowing the 6,000 miles of New York's streets is "like plowing from here to Los Angeles and back." iReport.com: Share photos of icy, snowy weather in your town
A snow emergency also was declared in Boston, and parking was banned from major thoroughfares so snow crews could do their jobs. Boston Public Schools canceled classes for Monday.
The city government Web site urged commuters to ride public transportation and stay off the roads.
Tragedy befell some traveling in the snow. In Boston, two women, one of them pregnant, died after their car smashed into a city plow truck, CNN affiliate WCVB reported. The pregnant woman was 25 years old and the other woman was 65 years old, police told WCVB.
Winter storm warnings were in effect Monday afternoon from the Washington area to Maine. A winter storm warning is issued when an average of 6 or more inches of snow is expected in a 12-hour period, or 8 or more inches in a 24-hour period. Washington was expected to have snow accumulations up to 10 inches by Monday night.

Watch winter storm cause accidents »
Most of the scheduled flights to and from Baltimore Washington International Airport were canceled or delayed Monday morning, airport spokesman Jonathan Dean said.
Delta Air Lines canceled 300 flights as of Monday morning, most of them to or from Atlanta, Georgia, because of snowy weather, airline spokesman Brian Kruse said.

Delta's Web site listed options for travelers who might be affected by the storm in Georgia, Connecticut, Delaware, Maine, Maryland, Massachusetts, New Jersey, New York, North Carolina, Pennsylvania, Rhode Island, Virginia and Washington.

Watch report on the storm system »
The storm has also meant more economic trouble for some towns struggling to pay for snowplows, worker overtime and other storm costs. In Middletown, Connecticut, the city expects to go over budget by about $150,000 for this winter, according to WTNH. An average storm can cost the city up to $35,000, the CNN affiliate reports.
E-mail to a friend

CNN's Sean Morris, Lee Garen and Chuck Johnston contributed to this report.
All About New England States • National Weather Service