LOUISVILLE, Kentucky (CNN) -- Over a quarter of a million people in Kentucky remained without power Monday after a devastating winter storm pummeled the state last week with ice and snow.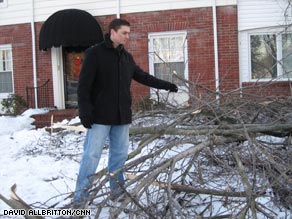 John Randolph moves fallen branches at his home in the Louisville, Kentucky, area Sunday.
National Guard troops continued to go door-to-door Monday morning, checking on families in the areas worst hit by what Gov. Steve Beshear called "the biggest natural disaster that this state has ever experienced in modern history."
Emergency personnel said up to 6,500 residents had to leave their homes for other shelter across the state as conditions deteriorated.
"Folks that thought they could weather it out are now heading to shelters because they're running out of supplies," Kentucky Emergency Management Agency spokesman Gary "Buddy" Rogers told CNN.
The storm has been blamed for at least 16 deaths in a crisis authorities expect could leave people without power for "a couple more weeks," he added.
Rogers said many of the deaths resulted from carbon monoxide poisoning after residents pulled power generators inside their homes to keep warm.
"We want to remind people to be very careful with using auxiliary sources," he added. "We issued a statewide bulletin yesterday warning people not to bring those generators inside their houses. ... hopefully they're now listening."

Watch the latest on weather conditions »
The "unprecedented" call-up of the National Guard included 4,600 troops and came just as the National Weather Service warned of another potential problem: winds that could knock down loose trees.
"Changing winds may produce a potentially hazardous situation," the service said in a statement for the region Sunday.
In many areas, trees remain in roads or even on homes. Louisville resident John Randolph showed CNN tree branches that fell onto his two-story suburban home.
"Just the overall power of the branches falling was actually pretty frightening" when the ice storm was setting in, he said.
He added: "The baby slept through the night and didn't wake up once. My wife and I, once we heard the first branches falling, we didn't go back to sleep the whole night. We didn't know what to do. ... Ultimately, we sort of just stayed in our bedrooms and I just kind of went outside periodically and assessed the situation."
Randolph's home -- which escaped serious damage -- is among those without power.

See images of the ice storm's aftermath »
Beshear toured areas in the Midwest part of the state over the weekend, the hardest hit area, where National Guard troops were also focusing their efforts.
"The troops have been instructed to attach green tape to the homes in which residents have sufficient food, power, water or communications. Red tape will be used to indicate homes where shortfalls exist," said a news release from the Kentucky Air National Guard.
"Houses marked with red tape will be reported to local emergency operations centers and will be placed on a list to be resurveyed for on-going support based on county capabilities."
In the statement, Beshear said the call-up of troops "represents the strongest possible effort to relieve human suffering and ensure the safety and well-being of our citizens." iReport.com: Share photos of icy, snowy weather in your town
Arthur Byrn, mayor of Mayfield -- one of the cities suffering from the storm -- told CNN Radio that authorities were conducting of a "door-to-door welfare check of the entire Graves County area, which is 38,000 people."
He said it could take "as much as two months" for the county to have 100 percent of its power back.

"It's quite disconcerting to go out at 7 o'clock at night and not see a light anywhere other than [a headlight] coming down the street," Byrn said.
He added, "Devastation is sometimes an overused word, but I would say that's what we had."
E-mail to a friend

CNN's Susan Candiotti and Andy Rose contributed to this report.
All About Winter Weather • Kentucky