(CNN) -- Winter weather was blamed for at least five traffic deaths as freezing rain and sleet blanketed areas from Texas to Kentucky on Tuesday.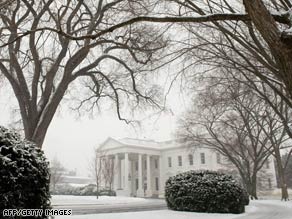 Snow covers the grounds of the White House on Tuesday morning in Washington.
Bridges and roads iced over as the storm system headed east toward the Washington area, where several inches of snow were expected.
The National Weather Service issued ice storm warnings from Dallas, Texas, to just north of Memphis, Tennessee.
The Oklahoma Turnpike Authority said a truck driver was killed Monday when his cab skidded off an icy stretch of Interstate 44 near Chandler, according to CNN affiliate KOCO-TV. No name was released.
The Oklahoma Highway Patrol said Renard Johnson Jr., 21, of Tulsa was killed Monday when his sport-utility vehicle skidded into the path of a semi on Interstate 44 near Afton, the station said.
In northern Texas, a man died Monday when his vehicle skidded on icy pavement and hit an ambulance stopped at an unrelated accident, said Vernon Fire Chief Kent Smead. The ambulance then hit a firefighter, who was treated at a hospital and released.
In Jasper, Missouri, a man died Monday when his sport-utility vehicle slid into a tree, the Highway Patrol said. In Christian County, Missouri, the patrol said a female passenger died when the vehicle she was in also skidded and hit a tree near Rogersville.
Don't Miss
The winter storm cut power and glazed roads in Arkansas.
"We're experiencing some problems," said Tommy Jackson, spokesman for the Arkansas Department of Emergency Management. "The northwest part of the state was hit worse than any other part. We've got scattered power outages."
Roads north of Little Rock are passable, he said, but bridges and overpasses are "extremely hazardous and ice-covered." Jackson said a tractor-trailer jackknifed overnight on U.S. Highway 65, but no injuries were reported.
The University of Arkansas at Little Rock was a ghost town Tuesday as students on campus stayed indoors to seek warmth and avoid severe weather.
"It's really cold and raining," student and resident assistant Dennis Geswein, 19, said. "Everyone I know is still asleep. It's kind of depressing because I had to get up and go to work."
Geswein has lived in Little Rock for two years.
"In my hometown, there would be no school cancellations for this kind of weather," he said.
As of Tuesday afternoon, the Oklahoma Corporation Commission reported at least 6,393 power outages in homes and businesses across the state.
The streets were slick in downtown Oklahoma City, where a handful of businesses were still open, but it's not as bad as Monday, one man said.
"Yesterday, it was really treacherous," said Charles Stout, 44, owner of Bricktown Brewery. His business was running on a skeleton staff Tuesday, he said.
Sales on Monday were only a third of what they usually are, and Tuesday wasn't looking much better, Stout added.
For 36-year-old Dorenda Coks, the assistant manager at City Bites in Oklahoma City, it's a completely new experience.
The Jamaica native is experiencing her first winter in Oklahoma and wasn't prepared for the cold.
"You just try to stay warm," Coks said.
The weather service predicted a prolonged period of freezing rain and some sleet that will "create significant impacts across north Texas today through Wednesday morning."
An upper-level storm system over the southern Rockies was moving in from the West. Forecasters said temperatures will fall during the day as the arctic front slides slowly south toward the upper Texas coast and central Texas.
"Ice and sleet accumulations between one-tenth and one-quarter of an inch are probable most areas, with isolated amounts to one-third of an inch possible," forecasters said. The icy weather is to continue into Wednesday.
In Lubbock, Texas, a FedEx cargo plane crashed Tuesday morning upon landing at the city's international airport, injuring two crew members, officials told CNN.

Watch video of emergency vehicles at the site »
The plane, coming from Fort Worth Alliance Airport, landed 300 feet short of the runway and skidded 1,500 to 2,000 feet before coming to a stop, airport director James Loomis said.
Loomis said that there was freezing drizzle at the time of the landing but that visibility was good.
The runway, one of two at the airport, was shut down after the incident and remained closed Tuesday afternoon. Federal investigators were en route, but virtually all incoming traffic to Lubbock was canceled because of bad weather elsewhere in Texas, Loomis said.
Elsewhere across the nation, the winter weather continued. Snow fell Tuesday morning in Washington; Baltimore, Maryland; Philadelphia, Pennsylvania; Cincinnati, Ohio; and St. Louis, Missouri.

Philadelphia's airport reported 30-minute flight delays. Weather-related delays were also reported at the airports in Atlanta, Georgia, and Washington.
Forecasters predicted 3 to 8 inches of snow along the Interstate 95 corridor, which runs north and south along the East Coast.
E-mail to a friend

All About Winter Weather • Air Travel • National Weather Service