Brazilian family vows to continue custody fight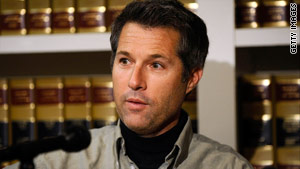 David Goldman of New Jersey talks Tuesday about being reuinted with his son after a five-year custody battle.
STORY HIGHLIGHTS
Family of boy's deceased mother in Brazil says they'll fight for child
Sean Goldman, 9, was reunited with American father last week after five-year custody battle
The boy had lived in Brazil since 2004, when mother took him there
His father, David Goldman, says Brazilian courts no longer have jurisdiction
New York (CNN) -- It's not over yet.
That's the message American David Goldman and his attorneys are getting from his son's Brazilian family. An international custody battle between Goldman and Brazilian relatives of his son came to a dramatic close Christmas Eve, when 9-year-old Sean Goldman was returned to his father after a ruling from a Brazilian judge.
At the time, it appeared Sean's stepfather and maternal grandmother in Brazil might have given up the five-year fight. But on Tuesday, Sergio Tostes, the family's attorney, issued a news release vowing to continue the tug-of-war until Sean's voice was heard by the Brazilian Supreme Court.
"The early delivery of Sean does not end. The court proceedings continue," Tostes said in a statement written in Portuguese.
Goldman, of New Jersey, fired back within hours, holding his first news conference since winning custody of his son. Goldman and his attorney Patricia Apy told reporters at Apy's offices in Red Bank, New Jersey, that the Brazilian courts no longer had any jurisdiction.
"If they are going to persist to take positions that are contrary to Sean's best interest, we would need to evaluate what impact that would have going forward on Sean," Apy told CNN.
Sean Goldman had been living in Brazil since 2004, when his mother, Bruna Bianchi, took him to Rio de Janeiro for what was to have been a two-week vacation. She never returned, instead remarrying there and retaining custody of Sean. She died last year in childbirth.
Goldman told reporters that his son was adjusting well to life in at Goldman's home in Tinton Falls, New Jersey, but the transition would take time.
"If he doesn't call me Dad for a period of time, I can live with that because I can live with him," Goldman said.