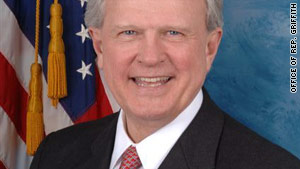 U.S. Rep. Parker Griffith of Alabama announced that he is leaving the Democratic Party and joining the GOP.
STORY HIGHLIGHTS
Alabama representative switches from Democrat to Republican
Tiananmen Square protester convicted of "inciting subversion"
Massachusetts mom calls police over son's video game obsession
Editor's note: Every weekday, CNN focuses on a handful of people in the news. This is a chance to find out more about what they've done -- good or bad -- what they've said or what they believe, and why we think they're intriguing.
(CNN) -- Parker Griffith
The Alabama congressman, elected as a Democrat, announced Tuesday he is switching to the Republican Party, citing fundamental differences with his former party on key issues including health care reform, "cap and trade" and the stimulus bills. Griffith was one of 39 Democrats to vote against the party's health care reform bill last month. He is one of only three Democrats to have voted against the health care bill, the stimulus measure, and the cap-and-trade bill. Democratic Congressional Campaign Committee Chairman Chris Van Hollen expressed outrage over Griffith's decision and requested he return the money the DCCC invested to get him elected. National Republican Congressional Committee Chairman Pete Sessions quickly welcomed Griffith to the Republican Party, and said Tuesday's events foreshadow big GOP gains in the 2010 elections.
CNN Political Ticker: Griffith: 'I can no longer align myself' with Dems
Liu Xiaobo
The prominent Chinese dissident, who was arrested in 1989 for his role in the Tiananmen Square protest, will be sentenced this week after a one-day trail in a separate subversion case, his attorney said today. Shang Baojun, Liu's lawyer, told CNN that the trial was finished, and sentencing was scheduled for Friday. Liu has been accused by Chinese authorities of "inciting subversion." Liu, a former university lecturer and literary critic, faces a possible 15-year jail sentence, amid growing international outrage over his yearlong detention.
CNN: China dissident faces Christmas sentencing
Melquisedec Angulo Cordova
The Mexican marine was killed during a shootout last week that resulted in the death of Arturo Beltran Leyva, one of Mexico's most wanted drug lords. Angulo Cordova was buried Monday with his country's highest military honors. Early Tuesday, gunmen broke into the marine's family's home in the southern state of Tabasco and opened fire, killing his mother, his sister and a third relative, and injuring his brother, according to Mexican President Felipe Calderon. The killing of Angulo Cordova's family members has raised speculation in Mexico that it was an act of retaliation by Beltran Leyva's drug cartel, CNN en Español reported.
CNN: Cartel retaliation suspected in Mexico shootings
Tony Welch
The lead social media strategist for Hewlett-Packard's Personal Systems Group has been responding to a remarkable question involving race, technology and lighting: Can HP's motion-tracking webcams see African-Americans? It's a question posed on a now-viral YouTube video in which two co-workers take turns moving in front of the camera. The webcam appears to follow the white employee as she sways in front of the screen but stays still as the African-American man moves about. The webcams, built into HP's new computers, are supposed to keep people's faces and bodies in proportion and centered on the screen as they move. Welch responded quickly to the claim in a post on the company's blog, TheNextBench.com, writing that lighting conditions may be an issue. He said the company was continuing to look into it. "The technology we use is built on standard algorithms that measure the difference in intensity of contrast between the eyes and the upper cheek and nose," Welch said. "We believe that the camera might have difficulty 'seeing' contrast in conditions where there is insufficient foreground lighting."
CNN: HP looking into claim webcams can't see black people
Angela Mejia
Here's a pre-Christmas cautionary tale: The single mother of four children in Roxbury, Massachusetts, was so frustrated by her 14-year-old son's incessant video-game playing, she phoned 911 this past weekend. The Boston Herald reports that Mejia's son would not stop playing "Grand Theft Auto," a violent game. She argued with him and then phoned police, who responded and managed to talk the boy into turning off the game and going to sleep. Mejia, a 49-year-old cafeteria cashier at the Veterans Affairs Medical Center in Jamaica Plain, said, "Sometimes I want to run away, too. I have support from my church, but I'm alone. I want to help my son, but I can't find a way."
Boston Herald: Frazzled mom calls police on teen gamer
What makes a person intriguing?
There are people who enter the news cycle every day because their actions or decisions are new, important or different. Others are in the news because they are the ones those decisions affect. And there are a number of people who are so famous or controversial that anything they say or do becomes news.
Some of these people do what we expect of them: They run for office, pass legislation, start a business, get hired or fired, commit a crime, make an arrest, get in accidents, hit a home run, overthrow a government, fight wars, sue an opponent, put out fires, prepare for hurricanes and cavort with people other than their spouses. They do make news, but the action is usually more important than who is involved in the story.
But every day there are a number of people who become fascinating to us -- by virtue of their character, how they reached their decision, how they behaved under pressure or because of the remarkable circumstances surrounding the event they are involved in.
They arouse our curiosity. We hear about them and want to know more. What they have done or said stimulates conversations across the country. At times, there is even a mystery about them. What they have done may be unique, heroic, cowardly or ghastly, but they capture our imaginations. We want to know what makes them tick, why they believe what they do and why they did what they did. They intrigue us.
FOLLOW THIS TOPIC