Protesters cleared out of San Francisco State building, university says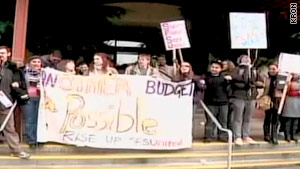 Protesters took over the business administration building at San Francisco State University early Wednesday.
STORY HIGHLIGHTS
Protesters had taken over the business administration building on Wednesday
13 occupants, who were protesting budget cuts and fee increases, were arrested
11 protesters outside the building were in ustody on other misdemeanor charges
Among other demands: End of "imperialist wars," economic justice, free education
San Francisco, California (CNN) -- Police early Thursday cleared protesters occupying a business administration building at San Francisco State University, and school authorities were getting the facility ready for classes, a school spokeswoman told CNN.
Thirteen occupants -- who occupied the building to protest budget cuts and fee increases -- were arrested and are in custody on misdemeanor charges of trespassing, school representative Ellen Griffin said. Eleven protesters outside the business building were in custody on other misdemeanor charges -- unlawful assembly and resisting arrest.
Griffin said the numbers were preliminary and may be updated.
The occupation last around 23 hours. University Police, backed by the California State University Critical Response Unit and San Francisco Police Department, entered the Business Building around 3:15 a.m. (6:15 a.m. ET) Thursday after students occupied the building at 4:15 a.m. Wednesday.
"The facility is now clear of occupants and is being readied for Thursday classes," Griffin said, adding that some protesters had "reconvened" at a city intersection near the campus. She cited reports saying city police have cleared that area and detained people.

Video: Students protest fee hike
The protesters took over the campus building Wednesday morning because of budget cuts in the California State University system and fee increases in the University of California system, which are dual tracks for higher education in the cash-strapped state.
Protesters planned for a long haul, with one of the organizers saying earlier that "we're prepared to be arrested to have our demands met."
"The people inside have food and water sufficient for a couple of days," said environmental studies major Wes Vasquez, one of the protest organizers.
The situation had been calm, Griffin said earlier, except for heated discussions between some counter- protesters and some demonstrators outside the building.
Protesters in the building had issued a list of demands that went beyond the budget. The list on their Web site demanded:
"That the imperialist wars in Iraq, Afghanistan, Pakistan and Gaza are ended, and that money is used to feed and clothe the poor. That the university system be run by the students, faculty and staff. Not administrators. That education, from kindergarten to Ph.D., be free of charge."
There have been similar protests over the dire financial state of higher education in California at other locations -- the University of California, Berkeley and University of California, Santa Cruz.