STORY HIGHLIGHTS
Dr. LeRoy Carhart is new face of late-term abortion after killing of George Tiller
"I don't want his death to be in vain," Carhart says
Troy Newman of Operation Rescue wants Carhart out of business
Bellevue, Nebraska (CNN) -- When you cross The Line of Death onto clinic property, the protesters stare at you. They get on walkie talkies and relay information: Your car. What you look like. Any identifying detail.
"Take a look around you, sir," one woman shouts. "The place is a dump."
The parking lot at Dr. LeRoy Carhart's clinic in Bellevue, Nebraska, is crumbled. A giant sign reads "Abortion & Contraception Clinic of Nebraska." Paint peels off the sides of the building, once a motorcycle shop, a car dealership showroom and an electronics store.
Wooden stairs lead to the front door, where visitors must pass through a metal detector. The office is clean and modernized, a complete contrast to its exterior. The waiting room is lined with leather chairs. A vending machine offers M&Ms, Hershey's and condoms.
Carhart -- one of about 12 doctors who perform late-term abortions in the nation -- sits at a desk piled with paperwork. Decked out in gray cowboy boots, a salmon-colored shirt and khakis, the 67-year-old stares across his windowless office at an unframed poster propped against a wall.
"George Tiller, August 8, 1941 - May 31, 2009," it says.
The poster is a reminder that this isn't an ordinary office. Abortions are performed here, a job that can endanger Carhart. "I'm willing to put my life on the line," he says.
Bellevue, Nebraska, is the new Ground Zero in the nation's abortion debate.
At 10:12 a.m. on that Sunday in late May, Tiller -- Carhart's mentor -- was shot in the head in a church in Wichita, Kansas.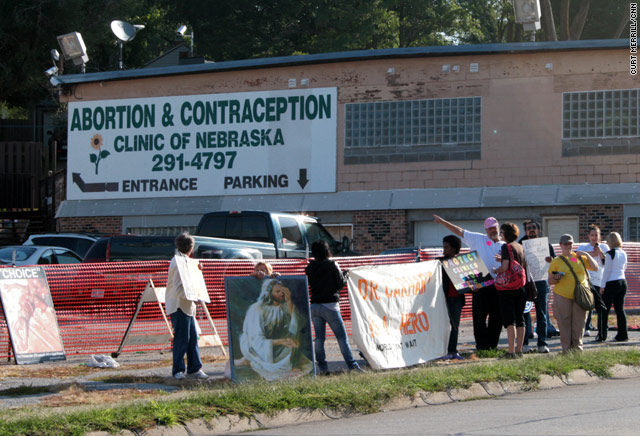 Interactive: Perspectives on abortion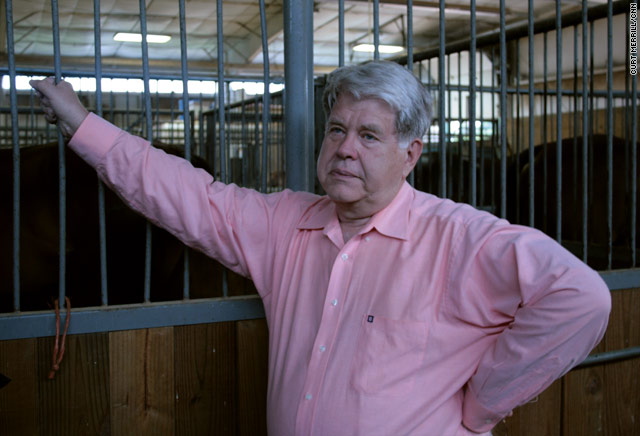 Gallery: Inside abortion war
Carhart was performing an abortion in Procedure Room No. 1 when his cell phone buzzed with the news. He didn't have time to grieve for his best friend. He still had 12 abortions to do.
"I finished them all," he says proudly.
He glances at the poster of Tiller. "I don't want his death to be in vain."
To that end, Carhart is working to open a clinic in Kansas to replace Tiller's, which closed after his death. He is also training five younger doctors in late-term abortions.
That makes Carhart, to his mind, next on the target list. He and Tiller often talked about the possibility of being killed. It was, he says, always in the "back of our mind."
"Would I quit doing what I'm doing because of that? Absolutely not," he says. "I am an abortionist. ... That is what I do."
In Carhart's trash can is a printout from a Web site detailing a protest against him in late August by the anti-abortion group Operation Rescue. "That's where it belongs," he says. "In the trash."
"They're fundamentalist religious terrorists."
If Carhart is the new face of late-term abortions, then Troy Newman of Operation Rescue is his nemesis -- a man on a crusade to end abortions.
More than 300 miles away, in Wichita, he too is preparing for the next skirmish in the abortion war. The protest outside Carhart's clinic will mark the first major demonstration against abortion since Tiller's killing.
Meet Carhart, Newman and others who descended on the clinic in August
Newman wants Carhart out of business and is seeking help in that fight, lobbying lawmakers and other "Pro-Lifers" to aid the battle.
"This is like a heavyweight fighting championship," Newman says. "You've got to keep your footing until the end of the bell."
He says he doesn't know why Carhart hates him so much. "I'd love to meet him."
It's a meeting that will never happen.
"He's not worth the time you and I are spending time talking about him," Carhart says in his soft-spoken voice. "I have abortion on the front of this building, because I think abortion isn't a four-letter word. It's a part of life."
Newman is appalled. In no way is "killing a baby" a way of life, he says. He's fueled by a desire to bring attention to "the inhumanity of mankind." And to him, Carhart personifies just that: a morally repugnant human being. He refuses to call Carhart a doctor.
"Doctors heal people. Abortionists do just the opposite."
Both men started their lives wanting to be preachers. They now preach two different gospels: The right to abortions and the reason why abortions must end.
Each believes God is on his side.
'Train my hands for war'
Troy Newman, 43, twirls the Plexiglas paperweight in his hands, his eyes transfixed on the image inside: the molded face of an aborted fetus. "I can see the baby's perfectly formed chin and nose and ears."
His desk sits in what once was an abortion clinic in Wichita. "Train my hands for war" is painted on his office wall in bold letters. A spear hangs just below the message.
On the opposite wall, a bumper sticker sits on a ledge. "Guns don't kill people, Abortion Clinics kill people." Newman acknowledges the sticker was more appropriate before Tiller was murdered.
As with Carhart's facility, visitors must get buzzed in to enter Operation Rescue. Newman's office has a monitor facing his desk, providing surveillance at all times. He too gets death threats. The ones against his children bug him the most.
It irks him that more people, especially those on the right, don't rally against those who perform late-term abortions. "This is low lying fruit for the Pro-Lifers," he says. "Why can't we shut them down?"
The legal definition of late-term abortion varies from state to state. Medical professionals generally define it as an abortion performed at 24 weeks or beyond, a time in pregnancy when a fetus can survive outside the womb.
What part of wanting to save a baby's life is so bad that it makes people hate me?
--Troy Newman
In 2002, Newman's organization moved from California to Kansas, a state that has restrictions on late-term abortions, including requiring a second physician's approval.
In Wichita, Newman targeted Tiller's clinic and worked through legal means to try to put him out of business. Newman believes Operation Rescue was about two months away from closing Tiller's clinic when he was shot in May. Abortion rights supporters dispute that claim and accuse Operation Rescue of harassing Tiller with endless lawsuits and picketing.
Scott Roeder, an active anti-abortion protester, has been charged in the killing. He has pleaded not guilty.
Newman distances his organization from the killing and refers to Roeder as a "loon and idiot."
"Shooting someone in the head in a church," he says, "is not a Pro-Life act."
Since May 31, Newman has turned his focus to Carhart.
It irritates him that Carhart relishes his work. Anyone who would do that "doesn't have a moral bone in their body."
"If he's so proud of what he's doing, I'm going to put it on the sides of these billboard trucks," says Newman, referring to his fleet of "Truth Trucks," which display graphic images of dismembered fetuses.
"I'll put them in front of their office, I'll put them in their communities, I'll put them down at City Hall. I'll put them everywhere!"
Newman preaches a message of peaceful protest. Of Carhart, he says: "Just praying he turns back to the healing arts and not taking babies' lives."
A staff member, hearing this comment, hollers from across the hall: "Or that he loses his license."
The staffer, Cheryl Sullenger, is Operation Rescue's senior policy adviser. She served time in the late 1980s for conspiracy to blow up a San Diego abortion clinic. The device failed to go off. She has since denounced violence. "It didn't accomplish anything except to keep me away from my family," she says. "My record for the last 20 years should speak for how I feel about violence now."
When Roeder was arrested for the killing of Tiller, Sullenger's phone number was found inside Roeder's car. She says Roeder would call her about court times on legal proceedings against Tiller. "That was the extent of my relationship with him."
Newman says his organization suffered after Tiller's death and that it forced his group to re-establish its core principle: "That all human life is sacred."
Operation Rescue has mostly shifted away from picketing abortion clinics; now, they're scrutinizing doctors' backgrounds, investigating their practices and lobbying local power players to act. The group has pressed Nebraska's state attorney general to investigate Carhart, raising allegations he had clinic workers without proper licensing performing medical duties. Carhart disputes the charges as just more of the same from opponents: unsubstantiated allegations.
But Newman shows an unwavering certainty. "We're winning," he says, smiling from his desk, a giant pair of longhorns mounted on the wall behind him.
The conversation is interrupted by a call on Newman's cell phone. The ring tone is a theme song from one of the Rocky movies, "Eye of the Tiger." The fight is on.
Two paths diverged
Carhart and Newman represent the passionate extremes of the abortion debate. One operates by the law of the land, Roe vs. Wade, and a belief that abortion is "both religious and moral." The other relishes free speech, guided by a love of God and the "humanity of the baby."
Their paths are set to cross at the protest outside Carhart's clinic on this weekend in late August. Yet they took divergent roads long ago -- paths that shaped who they are today, as well as their causes.
Carhart witnessed his first abortion in 1970 while in medical school in Philadelphia. That was before Roe vs. Wade legalized abortions. In Pennsylvania at that time, women wanting abortions had to go before a committee of doctors.
Carhart was struck by the women's explanations. "All of them had the same degree of necessity, how urgent and how important in their life it was for them not to deliver this child."
He opened his first clinic in Omaha in 1988, and moved into his current building in Bellevue, just south of Omaha, in 1994. He charges anywhere from $430 to $10,000 for an abortion. The price depends on how far along the pregnancy is.
Abortion isn't a four-letter word. It's a part of life.
--Dr. LeRoy Carhart
Of the 60,000 abortions he says he's performed, he says about 400 were beyond 24 weeks, so-called late-term abortions. In each case, he says, there was a medical reason for the procedure.
"I am not pro-abortion," he says. "That's the very one clear thing I want you to understand. Abortion is not the right answer for every pregnancy."
The latest abortion he's ever performed was at 36 weeks, he says, because the fetus had not developed a brain. His youngest patient was 10, a victim of incest.
Carhart doesn't mask his language. He's open and honest about what he does, sometimes uncomfortably so.
"We do kill fetuses," he says. "It dies because we give an injection into the fetus that causes the heart to just slowdown."
While Carhart was setting up shop in the Midwest, a young Troy Newman became immersed in the anti-abortion movement on the West Coast.
It was 1991 when he was shown a photograph of an aborted fetus. "That was the start," he says. "I said, 'This can't be happening in our country.'"
Newman had no idea then that he would become one of the nation's most outspoken activists against abortion -- despised by women's groups and supporters of abortion rights.
"I always wonder: What part of wanting to save a baby's life is so bad that it makes people hate me?"
The issue is also personal. Being adopted makes it that way.
About one-fifth of the 6.4 million pregnancies occurring annually in the U.S. end in abortion, according to the Kaiser Family Foundation.

About 19 percent of women having abortions in the U.S. are teens; 33 percent are between the ages of 20 and 24; and 48 percent are ages 25 and older, according to the Kaiser Family Foundation.

About 89 percent of legal abortions in the U.S. are performed before 12 weeks of gestation, according to the Centers for Disease Control and Prevention. About 1 percent of abortions occur after 21 weeks of gestation.


He grew up knowing he was adopted as an infant, yet he never knew anything about his biological parents. In the early 1990s, after his adoptive father died and Newman's first child was born, he began to search for his biological father, Ron Mariotti.
He penned a letter to his dad in 1994 and included photos of his family. On a Sunday morning in San Diego, his phone rang.
"I've been waiting for this phone call for 27 years," Newman told his dad.
Both men cried.
Of his dedication to stop abortions, he says, "Maybe it hits me a little bit closer to home. ... I'm not a 'problem' to be gotten rid of."
Symbolic but not decisive
A Truth Truck rolls up outside Carhart's clinic on the day of the protest, the last Saturday in August. The tattooed driver smiles as the vehicle comes to a stop, with its shocking photos of dismembered fetuses for all to see. It parks next to another Truth Truck in an area police designated as "Pro-Life."
Women gasp.
Carhart supporters quickly huddle with police and scramble to find a vehicle of their own. They're allowed to park an SUV near the Truth Trucks, in a "Pro-Choice" protest area. Abortion rights supporters hastily adorn their vehicle with posters: "Keep abortion legal."
It's a symbolic contest, but not decisive -- much like the protest this day.
By the time Troy Newman arrives, his supporters are outnumbered 2 to 1. Women's rights groups have traveled from all over the country, from California to New York to Pennsylvania, to support Carhart.
Newman strolls along a temporary orange snow-fence that separates both factions. He tries to hand ultrasound pictures to his opponents.
"Did you want one of these pictures?" he says, his arm outstretched.
The opposition stands with their backs turned. "Welcome! Welcome! This clinic stays open," they shout.
A day earlier, inside the clinic, women's rights groups hailed Carhart as a hero, a champion of their cause. He was moved to tears.
But on this day, he is mostly oblivious to what's happening outside. He's too busy performing abortions.
As the first major protest since Tiller's killing, the events this day have attracted an extra level of security. The man who has become America's most-visible doctor who performs abortions is more concerned about what comes next, after the protesters and the cameras go away.
"You try to do all you can to prevent it, but obviously Dr. Tiller thought he was safe in church." He pauses. "I didn't."
The man who once wanted to be a preacher stopped going to church around 1989, for his own safety. He found a different calling.
Tomorrow, just before and after performing abortions, Carhart will pray at the bedside of his patients.
Newman will pray, too -- that the abortionist will change his ways.
CNN's Curt Merrill contributed to this report.