(CNN) -- Three runners died Sunday during the Detroit Free Press/Flagstar Marathon in Detroit, Michigan, police told CNN.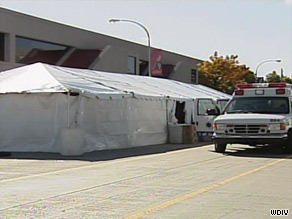 An EMT vehicle is at the scene Sunday in Detroit after three runners collapsed at a marathon.
All three deaths occurred between 9 and 9:20 a.m. ET, Second Deputy Chief John Roach said.
A man in his 60s fell and hit his head, Roach said. The cause of the fall was unknown. The man was transported to Detroit Receiving Hospital, where he was pronounced dead.
Two other men, ages 36 and 26, also collapsed during the race and were pronounced dead at the hospital, Roach said.

All three collapsed near the end of the race, he said.

Witnesses describe scene »
The weather at the time was overcast, Roach said, with temperatures in the low 40s.
E-mail to a friend

CNN's Chuck Johnston contributed to this report.