(CNN) -- A runaway teen who said her father threatened to kill her for converting from Islam to Christianity will be returned to Ohio once her immigration status has been clarified, a Florida judge ruled Tuesday.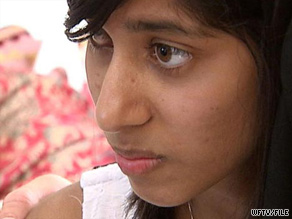 Rifqa Bary, 17, says a mosque told her family to "deal with the situation" of her Christian conversion.
The ruling was a victory for parents Mohamed and Aysha Bary, who had requested that their daughter's custody be transferred to Ohio while other issues in the case are settled. The teen's attorney, John Stemburger, who leads a Christian advocacy organization, opposed the move.
Seventeen-year-old Rifqa Bary left her family in Columbus, Ohio, in July and took refuge in the home of a minister in Orlando, Florida. The girl was later moved into foster care after she said in an affidavit that her Muslim father had threatened her after finding out about her conversion. Her father has denied the allegation.
In Tuesday's ruling, Judge Daniel Dawson said it was in Bary's best interest for her emergency custody continue in Ohio.
The transfer will not happen until the teen's immigration status is determined, however, the judge said.
Attorneys for the parents, who are from Sri Lanka, said required immigration documents will be submitted to the court within two weeks. A status hearing has been set for October 23 in case the paperwork has not been filed.
The ruling follows months of legal wrangling, including the affidavit from the teenager claiming that her father was pressured by the family's mosque in Ohio to "deal with the situation," referring to her conversion. In an earlier court filing, Rifqa Bary alleged that her father said, "If you have this Jesus in your heart, you are dead to me!" The teenager claims her father added, "I will kill you!" Mohamed Bary, 47, has denied the accusations.

Watch how Muslim teen converted to Christianity »
Don't Miss
"We wouldn't do her harm," he said, adding that he knew his daughter was involved with Christian organizations.
"I have no problem with her practicing any faith," Bary said, but acknowledged that he would have preferred that she practice Islam first.
A report by the Florida Department of Law Enforcement appeared to clear the parents.

"Our investigation has provided no clear evidence of criminal activity," the report says. iReport.com: 'Teen's plight not an isolated incident'
During Tuesday's hearing, the teen periodically read a Bible, as did many of her supporters who filled the courtroom. The supporters said they were disappointed by the ruling, but believe Jesus is with Bary no matter where she goes.
E-mail to a friend

CNN's John Couwels contributed to this report.
All About Rifqa Bary • Religion • Islam