LOS ANGELES, California (CNN) -- Hot, dry weather worked against Southern California firefighters early Thursday as they battled a quickly expanding fire in the rugged terrain of Ventura County.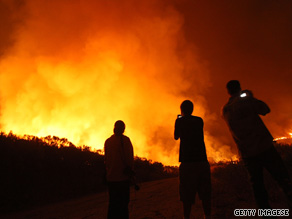 People photograph uncontrolled flames on the eastern flank of the 16,000-acre Guiberson fire Wednesday night.
The blaze had consumed more than 16,000 acres, fire officials said late Wednesday.
The Guiberson fire, named after the road near where it started, had nearly doubled in 24 hours, according to the Ventura County Fire Department. Despite the fire's growth, teams were making progress, gaining about 40 percent containment -- up from 20 percent half a day earlier.
Investigators determined Wednesday that the blaze originated in a mulch pile and were trying to figure out how it started.

Watch aerial views of flames and smoke »
Arson is one possible cause of the fire, which is burning in the largely farming and ranching area near Los Angeles, Robert Lewin of the California Department of Forestry and Fire Protection, or CalFire, told reporters.
He said fire officials hoped to contain the fire by Saturday. Nearly 1,000 firefighters joined the lines Wednesday, bringing their total to 1,831. Eight firefighters had suffered minor smoke- and heat-related injuries.
Lewin urged residents to leave their homes if asked to do so.
Don't Miss
"Don't make it hard on the firefighters and law enforcement folks who are out there to protect the citizens," he said. "It's dangerous for us."
The fire began Tuesday morning between the towns of Moorpark and Fillmore, and flames were lapping at the northern edge of Moorpark on Wednesday, fire spokesmen said. Authorities ordered residents to evacuate the area between the two towns.
The fire was growing on its west edge, including the southwest area where Moorpark College is located, Lewin said. iReport.com: Aerial assault on wildfires
Two voluntary evacuation orders are in effect for an unincorporated area of Moorpark and an unincorporated area of Santa Paula.
The public community college in the foothills between Moorpark and Simi Valley called off classes Wednesday. The school was scheduled to reopen Thursday, its Web site said early in the morning. But that depended on the fire.
The blaze northwest of Los Angeles threatened 1,000 mostly ranch homes and 20 commercial properties, in addition to more rural areas to the west, county fire officials said late Wednesday. Included in that count were 500 to 600 homes in the Bardsdale and Meridian Hills communities. The town of Somis, south of Moorpark, also was threatened.

The weather has been hot and dry in Southern California, hampering firefighters. Thursday's forecast had a high temperature around 90, with 30 percent humidity.
Authorities estimate that the fire has cost $3.4 million to battle so far.
E-mail to a friend

All About Wildfires • Natural Disasters • Los Angeles