By Sally Holland
CNN





WASHINGTON (CNN) -- As students head back to class across the United States, educators are weighing the benefits of a longer school year, which has been tried in several districts with mixed results.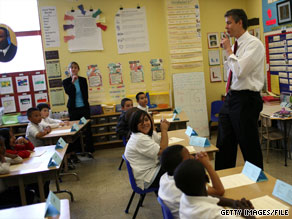 Education Secretary Arne Duncan visits Paul Revere Elementary in San Francisco, California, on May 22.
Barcroft Elementary School in Arlington County, Virginia, has had a year-round schedule since 2003. Although students have not seen an increase in test scores, Principal Miriam Hughey-Guy believes it is the right program because it cuts summer learning loss.
When the students come back in August, there is less assessment time, according to Hughey-Guy.
"They just left us so we can pick up the ball and run with it," she said.

See details on K-12 schools, teachers »
U.S. Secretary of Education Arne Duncan is pushing for the idea.
"I think our school day is too short. I think our school week is too short. I think our school year is too short," Duncan said. "I want our children to be able to compete with the best in India and China. And simply put, in other countries they are spending more time in school than we do here. And I think that hurts our children."
What if ... we all worked together?
On October 10, join iReporters around the world who are volunteering or giving to charity. Show us how you made a difference. Send your video and snapshots.


Summer learning loss is one of Duncan's major arguments for reworking the standard school year.
Children, he said, "get to a certain point academically in June and over the summer, they lose that."
By September, he said, "it's literally taking a step backward."
Miami-Dade Public Schools in Florida used an extended-day, extended-year program from fall 2004 through spring 2008.
The $100 million School Improvement Zone program shifted 39 public elementary, middle and high schools to a year-round, extended-day schedule. The school board decided not to renew the program in 2008 because there was no difference between the targeted schools and the control group in test scores.
Don't Miss
Miami School Board Vice-Chairman Marta Perez was unhappy with the program from the start.
Studies have shown that "the most important thing that determines whether or not a student will be successful in schools is the parents and the community, and how much involvement they have when they leave us, not when they're in schools," she said.
"The teachers were fatigued at the end of the day, the students were fatigued and unmotivated," she said.
"In most cases, these are students who are not motivated to be in school, so you're going to punish them by making them stay longer."
Extending time in schools that are already underperforming is a risk, said Elena Silva, a senior policy analyst with Education Sector.
"I think it goes without saying that no one wants to extend bad time," Silva said.

Watch report on possible end to summer breaks »
Children who have quality learning experiences outside school during the summer may not need the extra time in the classroom, she said, adding that kids from low-income families, who don't have the same opportunities as others, may need it the most.
Those who follow education are monitoring Massachusetts' program, now in its third year.
The program, Expanded Learning Time, adds 25 percent more classroom time to 22 schools across the state. It started in 2006 with nine schools and has grown to include 13,500 students.
Preliminary results indicate the program may be working, but Massachusetts Department of Education officials warn it may be too early to tell. Parents surveyed said that they saw improvement in their children's performance as a result of the expanded learning time.
It is not all about the test scores, Hughey-Guy said.
Barcroft changed to the year-round plan so students would have increased exposure to learning opportunities, she said.

The school's schedule includes a shorter summer break with two weeks off in the fall and in the spring.
By having school in all seasons, Hughey-Guy said, teachers don't have to wait until summer school to help weak students.

E-mail to a friend

All About Education Issues