By Moni Basu
CNN





(CNN) -- Kristin Schlaud brimmed with pride when she became the first in her blue-collar family to make it to college. But three years after law school, she is completely broke, saddled with almost a quarter-million dollar debt.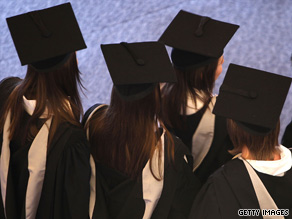 More college graduates are saddled with debt after taking private student loans to fund their education.
Schlaud didn't buy a house she could not afford or run up her credit cards. She owes for her education.
As the cost of higher education is skyrocketing, so is the debt carried by young Americans.
An increasing number of college students are turning to private loans -- one of the riskiest ways to pay for schooling, according to an education organization that compared them to credit-card debt.
"I know I have accomplished a lot, but I wonder if it was all worth it," said Schlaud, 28, who has a law degree from Wayne State University in Detroit, Michigan, and a master's degree in commercial real estate from John Marshall Law School in Chicago, Illinois.
Private student loans carry variable interest rates that are higher for those least able to afford them, up to 18 percent in 2008, according to The Project on Student Debt. A new report by the group found that the proportion of all undergraduates who took out such loans increased significantly from 5 percent in 2003-04 to 14 percent in 2007-08.
The unfortunate aspect to student debt, the report said, is that nearly two-thirds of those who borrowed privately did not take full advantage of what it called safer and more affordable federal loans.
Paul Ramirez earned a degree at Art Center College of Design in Pasadena, California. The program was so intense, he said, that he could not work part-time. So he signed on the dotted line for a private student loan. The bank came calling for a $1,200 a month payment after Ramirez graduated. He asked for forbearance and when that was up, he moved in with his parents to make the monthly payment, which had risen to $1,700.
Then the recession hit and Ramirez found himself unemployed.
Don't Miss
"Where's the justice?" he said.
College students need more protection, said Lauren Asher, president of the Institute for College Access & Success, the mother organization for The Project on Student Debt.
"Both the federal government and colleges should do more to prevent students from taking out unnecessary private loans," she said.
Private loans not only come with sky-high interest rates, but they lack the consumer protections that are attached to federal loans, according to The Project on Student Debt. It is difficult to discharge them in bankruptcy.
Federal loans also became much more affordable under guidelines that went into effect July 1.
The government allows borrowers to set their monthly loan payment at 15 percent of their annual adjusted gross income, lowering monthly payments for millions of students. Single borrowers who earn less than $16,245 -- the poverty level -- are not required to make payments on their federal loans as long as their income remains low.
Students who take out private loans are not eligible for payment deferments, loan forgiveness programs or income-based repayment options that federal loans offer.
Among the findings by The Project on Student Debt:
-- In America, 62 percent of graduates from public universities had student loans. That number jumped to 72 percent for private nonprofit universities and 96 percent for private for-profit institutions.
-- At public schools, the average debt was $20,200, which is 20 percent higher than it was in 2004. The numbers are higher for private schools.
-- The number of private loan borrowers rose from 935,000 in 2003-04 to almost 3 million in 2007-08.
Recently finalized Federal Reserve Board regulations for consumer disclosures did not go far enough in warning students about private loans, Asher said. Nor did they make students aware that they have other options, she said.
Asher called for mandatory school certification of private loans, which would give higher education institutions the authority to intervene when a student has other financing options.
Many frustrated students have pushed the idea of a presidential task force to investigate the student loan crisis. They are demanding the government deploy trained financial advisers to American high schools so that students have a clear idea about their financial options.
New York lawyer Robert Applebaum launched a Facebook page in January that urged President Obama to forgive student loans as part of his economic stimulus plan. The page attracted fans by the droves. So he started his own advocacy Web site, ForgiveStudentLoanDebt.com, in the hopes of launching a grassroots movement to address the problem.
The horror stories about debt started rolling in.
Applebaum, who amassed significant debt paying for law school, described private student loans as the epitome of predatory lending. He said federal loan amounts have not kept up with the rising cost of education, so in many cases, students fill the gaps with loans from private banks.
He questioned how colleges could allow teenagers who know little about repaying debt take out such damaging loans.
"We're talking about kids," he said. "What's more predatory than that?"
James Knight, 28, a commercial pilot in Kennesaw, Georgia, said he spent sleepless nights trying to figure out how he would make loan payments that were higher than his monthly earnings.
"Eventually, it comes to this: Do I pay for my loan or do I take care of my family," said Knight who is married and has a young son. "I chose my family."
He said the Department of Education is about to begin wage garnishments on a loan balance of $160,000.
The son of a bank teller and a mechanic, Knight said his parents could never afford to send him to college. Now, they are paying a price for having co-signed on his loan while he is embarking on his career stuck in the poor house.
"College is as crooked as anything these days," he said.
Schlaud has had no luck finding a job amid the economic slump. People think that she ought to be wealthy, she said. But she is hardly living the life she envisioned when she finished law school.
"My parents instilled a tireless work ethic in my brothers and I, and always taught us to be self-sufficient. Unemployment is the most embarrassing thing that has ever happened to me," she said. "I am not asking for a free ride or for someone else to fix my problems. I am not alone and that is why I am sharing my story."
These days, the phone rings with greater frequency, but it's always a bank calling to collect. But Schlaud has nothing to give them.
The government bailed out the big three auto companies, she said. "Why not us?"
In the meantime, she is considering going to nursing school in the hopes of finding a job. But to do that, she would have to take out yet another loan.
E-mail to a friend

All About Student Loans • Paying for College