By Mike Ahlers
CNN Homeland Security Producer





WASHINGTON (CNN) -- An agreement signed Monday by U.S. and Mexican officials some day may mean travelers headed into Mexico will see Mexican customs officials -- trained and equipped with the help of the U.S. government.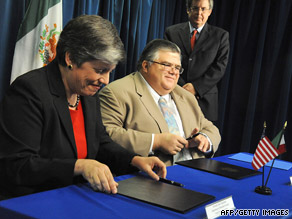 U.S. Homeland Security Secretary Janet Napolitano and Mexican offical Agustin Carstens sign a pact Monday.
The U.S. government has a large presence of customs officials inspecting traffic headed into the United States, and it has begun some south-bound inspections as well. But Mexican customs officers are scant or even nonexistent at border crossings.
On Monday, U.S. Homeland Security Secretary Janet Napolitano and Mexican Finance Minister Agustin Carstens signed a "letter of intent" outlining areas where they hope to improve coordination and cooperation in the future.
The letter commits both countries to strengthen cooperation in the areas of enforcement, increasing capacity and increasing trade compliance.
Napolitano said the countries will share information on things such as stolen cars. They will work on a single, common form for customs purposes in both the U.S. and Mexico. And they'll work on a mechanism to exchange customs data.
"I think one thing that you will see is more south-bound inspections," Napolitano said. "Some will be done by U.S. customs. The point of this, though, is that some of this will also be done by Mexican customs."
Napolitano said the agreement ultimately could lead to more technology such as license plate readers, canine teams and the like being deployed south of the border. The United States also may share its curricula for training customs agents with Mexico.
"Our view is that we can either point fingers at each other or we can work together," Napolitano said.
Since taking office this year, Napolitano unilaterally has increased inspections of south-bound vehicles, saying the United States needs to stem the flow of money and weapons fueling violence by Mexican drug cartels.
The change has increased significantly the amount of drugs, money and weapons seized at the border, she said.
The agreement amends and extends a pact the two countries signed in 2007.
E-mail to a friend

All About Mexico • Janet Napolitano • Border Control and Customs