By Wayne Drash
CNN.com Senior Producer






ORLANDO, Florida (CNN) -- Samuel Fahrer and Sidney Lipson shake hands and smile. It's the first time the men have seen each other in 64 years. They were U.S. soldiers back on a forced death march in Nazi Germany in April 1945.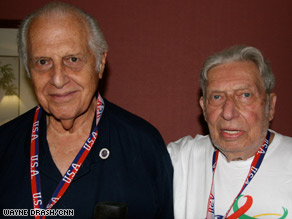 Sidney Lispson, left, and Samuel Fahrer meet for the first time in 64 years. They were in a Nazi slave labor camp.
"How you doing?" Fahrer says.
It's a subdued moment for the two men. There are no tears, no pats on the back. The men have endured years of contained emotions from what happened six decades ago when they were prisoners of war and held as slaves inside Germany.
They have come to a hotel in Orlando to be honored by the Army this weekend for the first time.

Watch slave camp survivors reunite »
Fahrer and Lipson were among 350 soldiers held at the slave labor camp called Berga an der Elster, a largely forgotten legacy of the war and a subcamp of Buchenwald where soldiers were beaten, starved and forced to work in tunnels to hide German equipment.
More than 100 soldiers died at the camp and on the death march. Buchenwald was one of the largest and first concentration camps on German soil.

See photos inside Berga »
The Berga soldiers are being honored thanks in part to CNN.com users, who demanded the Army recognize the men, all in their 80s, after a series of reports late last year. The Army then conducted a months-long review of Berga at the urgings of Rep. Joe Baca, D-California, and Rep. Spencer Bachus, R-Alabama.
"These soldiers endured extreme hardships of forced labor, beatings, poor living conditions, and ultimately a forced march of over 250 kilometers [about 155 miles] prior to liberation by advancing U.S. Armed Forces," Army Secretary Peter Geren said at the conclusion of the review.
"The survivors of Berga certainly deserve both our thanks and recognition for their service and sacrifice."
Geren is sending Maj. Gen. Vincent Boles to honor the survivors on Saturday. Six of the 22 Berga survivors will be at the event; most of those still living could not make it because of declining health.
Don't Miss
Those here look forward to what the general has to say. They want desperately to know why the U.S. government commuted the death sentences of the two Berga commanders, Erwin Metz and his superior, Hauptmann Ludwig Merz.
Both were tried for war crimes and initially sentenced to die by hanging until their commutations in 1948.
"I'm very happy the Army is sending a general to see us," Fahrer says. "But they should've sent the general to see us a long time ago when some of the fellas were still alive. We're only 20 fellas left."
Fahrer was one of the primary survivors after the war who fought to get the government to carry out the death sentences for Metz and Merz.
In a letter to survivors in January 1949, he wrote, "Things are beginning to break our way. A little enthusiasm, a little more cooperation, a little more action, will accomplish a great, great deal now." Now, 60 years later, he may finally get some answers.
"Let's see what the general has to say when he gets here," Fahrer says.
His comrade, Morton Brooks, says, "I never wanted revenge, but I did think retribution would be proper. And I think they should've suffered a little bit longer for what they did. ... They wouldn't kick a dog, but they did that to us."

Watch Morton Brooks describe the Germans' "work to death" program »
The two men finally hugged. "I'm glad to see you," Fahrer says.
Some of the Berga soldiers were killed in cold blood, such as Morton Goldstein, shot through the head and then machine-gunned. His bullet-riddled body was placed in front of the barracks for all to see.
Bernard Vogel and Izzy Cohen were forced to stand without food and water for days, pushed to their deaths.
Cohen was a 32-year-old father of two young children. When he left for war, he kissed his family goodbye at a train station in California. He looked at his wife, Florence, and said, "Whatever happens happens." It was the last words he ever spoke to her.
Vogel's last words at Berga were: "I want to die! I want to die!"

Hear Martin Vogel finally learn about his brother's final minutes »
"They killed us slowly," Fahrer says. "They didn't feed us, they didn't give us anything, they didn't do anything."
The memories are so terrible, so horrific that Sid Lipson doesn't remember much of anything about his captivity. "I don't remember a damn thing from the march," he says.
Brooks says, "I think it's best." Brooks weighed 75 pounds when he was finally freed; Fahrer weighed 90.
"The United States government did not acknowledge the fact that we were put in this slave labor camp," Fahrer says, shaking his head. "We went through all these things and nobody wants to give us any help. And finally, now ..."
Brooks went on to become a psychologist. He says his time in captivity was a "$1 million experience that I wouldn't want to repeat for $2 million."
His message to the world about the whole ordeal:
"We have to learn to talk to one another and live together. It's not necessary to go kill people for no reason."

One of the survivors who won't be at this weekend's ceremony is Tony Acevedo, the U.S. medic who kept a diary inside Berga cataloguing the deaths and atrocities. It was Acevedo who CNN profiled in November, prompting a series of events culminating with the Pentagon deciding to honor the soldiers.

See Acevedo's diary »
Acevedo's wife, Loline, is too ill. He doesn't want to leave her side. "The love of my life," he says.
E-mail to a friend

All About United States Holocaust Memorial Museum • The Holocaust • Nazi Party