NEW ULM, Minnesota (CNN) -- A judge Tuesday ordered chemotherapy for the 13-year-old Minnesota boy with cancer whose mother had fled with him rather than comply with a doctor's recommendation that he undergo such treatment.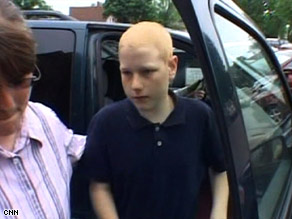 Daniel Hauser arrives at court Tuesday where a judge ordered he undergo chemotherapy.
Daniel Hauser can remain with his parents, but he will have to start the treatments Thursday at Children's Hospital in Minneapolis, Minnesota, and his parents will have to comply with the doctor's treatment schedule, said District Court Judge John Rodenberg, who is overseeing the case. He said the boy's tumor has grown since he underwent an initial course of chemotherapy in February.
Dr. Michael Richards examined the boy on Monday. In his report, made public Tuesday, the pediatric oncologist estimated the tumor's size at 5.3 inches by 5.1 inches by 6.3 inches, and said it was "protruding outside the chest wall. There is further compression of the airway, making the initiation of standard chemotherapy imperative this week."
Richards recommended six cycles of chemotherapy followed by radiation. He added that the "goal will be to include alternative therapies in which the family is interested, as long as there is not data to suggest that a particular danger exists with any alternative medicine."
Daniel, dressed in khaki pants and a blue short-sleeve shirt, arrived at the courthouse in New Ulm for the Tuesday afternoon hearing accompanied by a law enforcement officer. He ducked under the dashboard, apparently trying to hide from the news media, before getting out of a green minivan.
But he did not appear in the courtroom. During the hour-long proceeding, Daniel's mother, Colleen Hauser, sat near her husband hunched over, sobbing occasionally and daubing her eyes.
In response to questions from Rodenberg about whether she now believes that chemotherapy is the correct course of treatment for her son, she answered that she did.

Watch spokesman describe family's emotions »
Don't Miss
A lawyer representing the family expressed satisfaction with the hearing's outcome. "We're just glad that the judge found that the parents are loving and that Danny is at home where he needs to be," said Tom Hagen. He added that, under the agreement, Daniel will also receive "alternative health" treatments to supplement the chemotherapy.
And he dismissed the possibility that the parents might take the boy from the state. "They're willing to do whatever the court says to make sure that Daniel stays at home," he said.
Last week, Colleen Hauser fled with her son from their rural town of Sleepy Eye, Minnesota, to Southern California after a doctor said the boy's Hodgkin's lymphoma was worsening and recommended chemotherapy.

Hodgkin's lymphoma is a cancer that affects the lymphatic system, which is part of the immune system. As the disease progresses, it compromises a body's ability to fight infection.
Colleen Hauser had been planning to take Daniel to Mexico for holistic treatment, but opted instead to return home, a family spokesman said.
E-mail to a friend

CNN's Aaron Cooper and Chris Davis contributed to this report.
All About Cancer • Minnesota • Alternative Healthcare