NEW ULM, Minnesota (CNN) -- A 13-year-old cancer patient and his mother who last week fled their rural home in Sleepy Eye, Minnesota, rather than undergo chemotherapy returned voluntarily Monday and will accept whatever course of treatment a court may order, their lawyer said.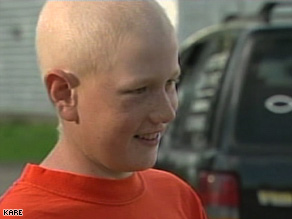 Doctors say Daniel Hauser's lymphoma responded well to a first round of chemotherapy in February.
Colleen Hauser is prepared to allow her son Daniel to undergo chemotherapy, defense lawyer Jennifer Keller said.
"My understanding is that Colleen intends to abide by whatever orders the court makes and that she wants to put her best case forward for her son to have a chance at alternative treatment," Keller told CNN. "But if the court overrules that, she will abide by the orders of the court. We were very clear on that. That certainly is my advice."
The case raises questions about individuals' rights in deciding medical care for their children when their decisions go against the advice of medical professionals.
Monday's homecoming came a day after Keller, an Orange County, California, attorney representing the pair, called the Brown County Sheriff's Office and told authorities that Colleen Hauser wanted to bring her son home.

Watch spokesman describe family's emotions »
"I think they wanted to come back home. They wanted to get together with their family and they were ready to be home," Brown County Sheriff Rich Hoffmann told reporters. "It all turned out for the good."
Keller said she met Sunday with Hauser and her son in her office in Irvine after talking with them a couple of days earlier by telephone.
"He did not appear in pain. He was tired and anxious to get home," Keller said. "He didn't appear to be in any acute distress. He misses his home, he misses his family and he wanted to see his dad."
Late last week, authorities said they thought the mother and son were near Los Angeles, California, and may have been planning to travel to Mexico for a holistic treatment.
Daniel and Colleen Hauser had last been reported seen in Minnesota on May 18, a day after a doctor said the boy's Hodgkin's lymphoma was worsening. The family rejected standard treatment, opting instead for a holistic medical treatment based on Native American healing practices called Nemenhah.
Asked where the boy and his mother had been during their week on the run, the lawyer said, "I didn't ask. My only goal was to help her get Danny back to Minnesota."
Keller said it is her understanding that legal custody has been taken by the court, but that there were no plans to remove Daniel from his mother's care "as long as she was cooperative with the court."
Colleen Hauser and her son arrived in Minnesota at 3 a.m. on a chartered flight paid for by Asgaard Media of Corona, California, Hoffmann said. The company describes itself on its Web site as "founded and advised by a group of forward-thinking, positive-minded individuals wanting to make a difference not only in their environment but in both the world of entertainment and the world around them."
No one from the company responded immediately to an e-mail seeking comment, and the company's telephone answering machine was full.
Upon arrival in Minnesota, Daniel was taken to a hospital, where his medical condition was evaluated, said the sheriff. He said he could not comment on the findings.
Keller, who did not charge for her services, said the charter flight was arranged so the boy's return would not become a media event.
"We wanted him to be able to come back quietly, not have cameras in his face, not have people shouting questions at him, allow him to get back to the farm and his father and his siblings and some sense of a normal life," she said.
"He's a nice boy but he's been through a lot. He really deserves a chance at this point to get some rest and peace and quiet."
Brown County District Judge John R. Rodenberg issued an arrest warrant for Colleen Hauser last Tuesday, when she and her son failed to show up for a court hearing. Rodenberg, who said the boy's "best interests" require he receive conventional medical care, issued a contempt order for the mother and ordered Daniel placed in the custody of the Brown County Family Services agency.
But Hoffmann said Monday that the court, noting the return was voluntary, quashed the warrant for the mother's arrest. A federal fugitive warrant will also be dropped, he said.
In February, the boy's cancer responded to an initial round of chemotherapy. But the treatment's side effects concerned the boy's parents, who opted not to pursue further chemotherapy and solicited other medical opinions.

Daniel's symptoms of persistent cough, fatigue and swollen lymph nodes were diagnosed in January as Hodgkin's lymphoma. Court documents show doctors estimated the boy's chance of five-year remission with more chemotherapy, and possibly radiation, at 80 to 95 percent.
Philip Elbert, Daniel's court-appointed attorney, said he considers his client to have a "diminished capacity" because of his age and the illness, and said he believes Daniel should be treated by a cancer specialist.
E-mail to a friend

CNN's Tom Watkins contributed to this report.