WASHINGTON (CNN) -- Iranian-American journalist Roxana Saberi returned to the United States on Friday after enduring a 100-day ordeal in an Iranian jail.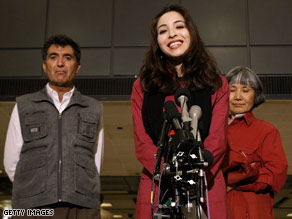 Roxana Saberi and her parents give a news conference at Dulles International Airport on Friday.
Landing at Washington's Dulles International Airport on a flight from Vienna, Austria, a smiling Saberi said she was feeling "very good."
Saberi thanked those who campaigned for her release, including her supporters in Iran.
"The one thing that kept me going when I was in prison was singing the national anthem to myself," said Saberi, flanked by her parents. "It may sound corny, but I am so glad to be home in the land of the free."
State Department spokesman Ian Kelly wouldn't say whether Saberi would be debriefed in the United States by government officials "out of respect for her and her privacy." But, he said, there might be more information released about the subject next week.
"We are very pleased for her and her family," Kelly said. "They've gone through a tremendously difficult experience."
Saberi's parents flew to Tehran from their home in North Dakota to push for their daughter's release.

Watch Saberi's remarks upon returning home. »
A 32-year-old journalist who had lived in Iran since 2003, Saberi was convicted last month on espionage charges in a one-day trial that was closed to the public. She was sentenced to eight years in prison after being accused of spying for the United States.
Don't Miss
She received international support after she was jailed in Iran in January, becoming a symbol of the fight for journalists' freedoms worldwide.

A judge changed her sentence during an appeal hearing this month, and the court agreed with her lawyers that, because Iran is not at war with the United States, Saberi could not be punished for cooperating with agents of a hostile nation, according to her spokesman, Abdolsamad Khorramshahi.
Her sentence was changed to a two-year jail term, suspended for five years, Iran's state-run news agency IRNA reported.
E-mail to a friend

All About Roxana Saberi • Iran