By Alan Duke
CNN





LOS ANGELES, California (CNN) -- The woman who gave birth to octuplets, Nadya Suleman, is seeking to trademark her media nickname -- Octomom -- for a TV show and a line of diapers.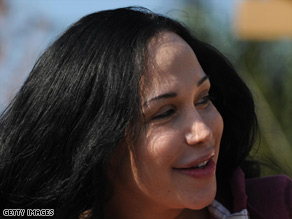 Nadya Suleman may have been misquoted by a magazine that reported a TV deal, her lawyer says.
Word of Suleman's federal trademark filings came as her lawyer confirmed he is talking to production companies about a TV show, but said reports of a signed deal are premature.
Suleman, who gave birth to octuplets in January, brought home the last and smallest of the eight babies on Monday, a hospital spokeswoman said. Suleman also has six other children. All 14 were conceived through in-vitro fertilization.
Suleman is not the only one to claim a trademark on the nickname. A Texas company not affiliated with her has filed to trademark an Octomom iPhone game.
"You press on her belly and she has babies," the company's CEO said.
One of Suleman's lawyers filed her trademark applications Friday with the U.S. Patent and Trademark Office in Washington, according to the documents. In the application, the word is spelled "OctoMom," with a capital M.
One trademark would cover OctoMom disposable and textile diapers, dresses, pants and shirts.
Don't Miss
The other application would give Suleman the trademark OctoMom for "entertainment in the nature of ongoing television programs in the field of varity." The last word -- "varity" -- may have been intended to read "variety."
Suleman lawyer Jeff Czech downplayed a Life & Style magazine report that Suleman had signed with a British film company to produce six shows a year about her family over the next 18 years.
"The truth is that there is no deal yet with any production company or programming company," Czech said. "I am not certain if Ms. Suleman was properly quoted in Life & Style."
He added, "I have been in negotiations with production companies, but no agreements have been reached."
In the Life & Style report, Suleman is quoted as saying the TV show would not be a "reality show."
"What I'm doing with this TV show is basically creating documentaries about the lives of my children," she is quoted saying.
The company the magazine said would produce the shows -- Eyeworks -- has not yet responded to CNN calls.
"It will give me the opportunity to have incredible home movies that, believe me, I don't have the time to make myself. Having this documentary crew allows me to focus on raising my children and still have great movies of them," the magazine quoted Suleman saying.
The Octomom video game probably is not something she would share with her kids.
Super Happy Fun Fun Inc., an Austin, Texas, company, filed a trademark notice in March to use the Octomom application for iPhones and other technology.
Apple has been hesitant to approve the game for official iPhone downloads, so until that happens it can also be found as the "Fertile Myrtle" game, said CEO Mark Pierce.
The company's description of the game reads:
"Press down on Octomom's swollen belly and another adorable bundle of joy will be brought into the world."
"The babies must be caught by Octomom's mother. Hold down on Octomom's belly to charge, which shoots babies out faster and increases your chances of delivering twins! Tilt for better aim.
"Each baby earns welfare money. Having babies while the Paparazzi is in the room earns a cash bonus! Money is used to buy more fertility shots. Fertility shots let Octomom have more babies!
"It may 'take a village to raise a child' but it only takes Octomom to birth a village of children!"
E-mail to a friend

All About Nadya Suleman