By Jason Hanna
CNN






(CNN) -- Many Arizona State University seniors are relishing the chance to invite relatives to see President Obama give their commencement address.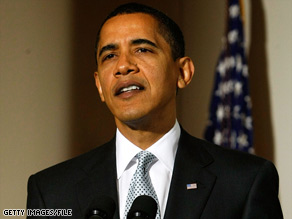 President Obama's commencement speech at Arizona State University is a money-maker for some students.
Others would trade the opportunity for cash. And one might accept a lot of beer.
Some graduating ASU students -- allowed by the school to invite up to six guests -- apparently are selling their guest tickets to the May 13 commencement at Sun Devil Stadium. Sellers generally are asking $60 to $100 apiece on craigslist.org, and they're auctioning tickets on eBay. Others are selling by word of mouth.
One online seller said he wasn't inviting guests, in part because he wasn't going to the event.
"[Obama] is speaking in the middle of May in Phoenix -- it's going to be a long, hot day in Sun Devil Stadium," the man, who said he was an ASU student but spoke on condition of anonymity, told CNN by phone. "You have to get through security, then you have to hear him speak, and then you have to get out."
The university, which isn't selling tickets, is not amused. Seniors who are selling the tickets instead of inviting guests are robbing other people connected to ASU -- returning students, faculty and staff -- of the chance to see Obama, university spokeswoman Sharon Keeler said.
Tickets not claimed by graduating students by April 18 will be offered free to the rest of the ASU community, Keeler said.
"When students are selling their tickets, they're taking away from the ability of someone else from the university community to go," she said.
A notice on ASU's Web site warns that selling the tickets would be a violation of the school's student code of conduct. The school is monitoring the online advertisements, and anyone caught would be referred to the university's judicial system, Keeler said.
She said she didn't know what punishment the violators could face.
The university expects to print about 60,000 tickets for the event, Keeler said. About 8,000 graduating students are eligible to attend.
One student told CNN affiliate KPHO-TV that he sold two tickets for $225. One of the craigslist.org ads claimed the writer wanted "a 30 pack of Bud Light for each ticket."
The man who spoke to CNN said no one has yet bitten on his offer of $75, but he has a friend who sold six tickets at $50 apiece.
Some students are bringing their parents but selling the rest of their tickets, he said. Others "are excited Obama is coming and are hoarding their tickets, and they're not happy we're selling ours."
"You got everyone from being super excited to 'No one gives a damn,' " he said.
Obama also will speak at the University of Notre Dame's May 17 graduation ceremony at the Joyce Center. Notre Dame spokesman Dennis Brown said the university hadn't heard any reports of students there selling tickets.
Notre Dame's 2,800 graduating students will have nearly 8,000 guest tickets available. Most graduating students will have up to three guest tickets to distribute; those getting degrees from graduate school and business school will have up to two.
Mark Gold, student body president at Texas A&M University, said he wasn't aware of anyone scalping tickets to the school's December graduation ceremony, where President George W. Bush was the speaker. Those students, however, were limited to two guest tickets.
"I understand what's probably motivating their actions," Gold said of the ASU students, "but for me personally, I come from a big family, and I have a lot of friends and family who would have loved to have heard Bush speak, so the thought of scalping tickets wouldn't have come to mind."
E-mail to a friend

All About Barack Obama • Arizona State University