(CNN) -- Alaska's Mount Redoubt volcano shot ash thousands of feet into the air Monday, the latest in a series of emissions that has dusted the state's largest city, Anchorage, and disrupted operations at Anchorage's airport.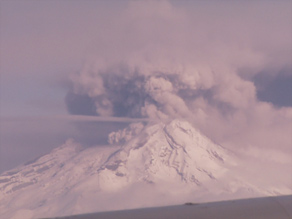 Ash from Alaska's Mount Redoubt volcano has been affecting airport operations.
The "ash emission event" happened at 9:44 a.m. (1:44 p.m. ET) "and produced an ash plume to about 27,000 feet above sea level," the Alaska Volcano Observatory reported. "The event lasted for about 10 minutes."
The volcano began a series of eruptions March 22. The observatory last week reported ash clouds as high as 65,000 feet.
Mount Redoubt erupted three times Saturday, shooting ash to 51,000 feet above sea level.
That prompted the closure of Ted Stevens Anchorage International Airport, the Federal Aviation Administration said. Only a trace amount of the ash reached the airport grounds, airport spokesman Jeremy Lindseth said, but it was enough to affect operations.
The airport reopened about 2 p.m. (6 p.m. ET) Sunday with one of its three runways operating, airport officials said. A second runway opened about three hours later. The third runway was expected to reopen by Tuesday, officials said.
The airport's Web site Monday advised travelers to contact airlines to check on their flights. iReport.com: Send photos, videos of the volcanic ash
The Alaska Volcano Observatory set its alert level at red, the highest designation. That level indicates that an eruption is under way or imminent and that the eruption will produce a "significant emission of volcanic ash into the atmosphere."
E-mail to a friend

CNN's Chuck Johnston contributed to this report.
All About Alaska • Mount Redoubt