By Lisa Respers France
CNN





(CNN) -- While most parts of the country grapple with massive job loss and a deficit in new jobs, the South is faring a bit better.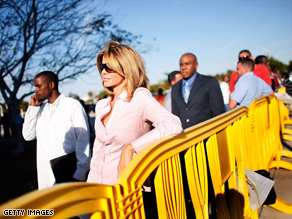 Hundreds stand in line at the Miami Dade College Mega Job Fair 2009 in Florida.
The U.S. Bureau of Labor Statistics reported that in December the South recorded one of the lowest unemployment rates in the country at 7 percent.
According to Careerbuilder.com, the nation's largest online job site, the South continues to see growth in the oil and gas industries which means more job opportunities in related fields like engineering.
As an attractive destination for senior citizens, the South is also a hot spot for those seeking employment in the health care field or industries that cater to older populations.
Education also continues to be an area that many consider "recession-proof."
CNN affiliates in the South report there is hope for those seeking jobs at job fairs which are drawing big crowds.
Charlotte, North Carolina

In a competitive market, job seekers have to be creative and some are turning to Twitter to give them an edge.
The Web site TweetMyJobs.com is an online service that couples the social networking capacity of Twitter with more traditional online job-search services.
"Pick a location and job type you are interested in -- you subscribe to that. Any time a new job comes out on TweetMyJobs.com, it will automatically be sent to your cell phone," Web site developer Gary Zukowski told News 14 Carolina. Read what developer told News 14 Carolina about the site
Antwon Keith, Mecklenburg County employment security commission manager, said that such an instantaneous job alert may be just what job seekers need to stay ahead of other applicants.
His concern, he told the station, was that older applicants, who are currently flooding his office, may have a difficult time utilizing the online site.
Hope for those in the financial sector

There is an expectation that some financial services companies in Charlotte will be hiring soon, a possible bright spot for those laid off from companies like Bank of America and Wachovia.
Robert Half International conducts a hiring survey every three months and told WCNC that while some companies are planning reductions due to the economy, others will add staff.
"As companies have contracted and realized that their staff may be smaller than they like, they've been looking at the idea of possibly bringing in more talent," Michael Steinitz of Robert Half International said. "And it's actually a really good time to improve your talent pool and make sure you have the best people on your staff." Read about the hopeful survey
Winston-Salem, North Carolina

Many area residents aren't just looking forward to the summer for the warm weather. They are also looking forward to the baseball season which is slated to bring new jobs.
The Winston-Salem Dash baseball team has openings for batboys, ushers, attendants and other hourly positions. Read about resident's excitement over the ballpark jobs
Competition for the 150 positions has been fierce, especially since seasonal workers from last year have also been applying to regain their former jobs.
Job seeker Akila Covington told the news channel that she has not worked in a long time and she hoped to land one of the positions to help provide for her family.
"I need this job badly," she said. "I was working at US Airways last year and lost my job, so I've been out almost a year and most definitely, yeah, need the job."
Even those lucky enough to score a position won't begin immediately. Workers won't start until the new ballpark is completed and that date is still tentative, officials told WXII 12 News.
Miami, Florida

More than 1,000 Floridians stood in line to meet recruiters for the second day of a job fair held at Miami-Dade College's North Campus.

Held March 3-4, the number of recruiters present was fewer than years past, but those on hand told local station WPLG there were jobs for qualified applicants.
Many of the job-far companies were members of "recession-proof fields" like nursing, education and public safety. Read about the employers that attended the job fair
Even Walt Disney World, which shed 5 percent of its workforce and offered buyouts to hundreds of its employees, was represented.
"There are still jobs there and it's a very fun program," Dayo Graham, a Disney recruiter, told WPLG.
The thought of available jobs was very comforting to attendees like applicant Alex Barrino who told the WPLG it's been difficult being unemployed.
"It's been six-and-a-half months," Barrio said. "I've been looking for a job and it's getting ridiculous."
E-mail to a friend

All About National Economy • Jobs and Labor • Twitter Inc.