WASHINGTON (CNN) -- The "most worrisome" part of the U.S.-led war in Afghanistan has become the havens the Taliban and other insurgents have carved out in neighboring Pakistan, U.S. Defense Secretary Robert Gates said.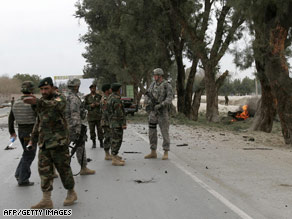 Afghan and U.S. soldiers walk at the site of a suicide attack outside Jalalabad in Nangarhar province Sunday.
Gates said the United States had a similar perch in Pakistan when U.S. and Pakistani officials supported Afghanistan's mujahedeen rebels against the Soviet Union in the 1980s -- "and let me tell you, it made a big difference."
"I think as long as they have a safe haven to operate there, it's going to be a problem for us in Afghanistan," he told NBC's "Meet the Press" on Sunday.
The Pentagon is in the process of sending an additional 17,000 troops to Afghanistan, the original front in the "war on terrorism" sparked by the September 2001 attacks on New York and Washington. They will be tasked primarily with clamping down on that border, a military official with specific knowledge of the deployment told CNN earlier this month.
Adm. Mike Mullen, the chairman of the Joint Chiefs of Staff, told CNN's "State of the Union" the troops will also be there to safeguard the country's upcoming presidential election. But that mission could be jeopardized by Afghan President Hamid Karzai's recent call to move that vote up from August to April, Mullen said.
"I'm on a pretty tight timeline, right now, to get security forces there in order to provide the kind of security for the elections," he said. "And so moving those dates to the left certainly generates a higher level of risk with respect to security for those elections, which we want to be free and fair as well as secure."
Karzai was named the head of an interim Afghan government after the U.S.-led invasion that dislodged the Taliban, which ruled most of Afghanistan before the attacks and allowed al Qaeda to operate from its territory. He was elected to an interim term in 2002 and to a full term in 2004. That term ends in late May.
Don't Miss
Karzai is the country's first popularly elected president and has said he intends to run for a second term. He argues that the Afghan constitution requires an election at least 30 days before the end of his term, but opposition groups are crying foul.
But Karzai may not have the authority to move up that vote, which an international commission set, Mullen said. He said the Karzai government's inability to improve security and public services have contributed to "the situation that we're in right now" -- where the Taliban and its allies, including al Qaeda, are on the offensive.
Meanwhile, the war is spilling over into Pakistan, where the Taliban have long had a foothold in the tribal areas along the mountainous border. Its supporters have been battling Pakistani troops in the region for more than two years, and the United States is believed to be responsible for periodic airstrikes that target suspected militant leaders.
Neither Gates nor Mullen would discuss those strikes, which Pakistani officials say are mostly conducted by armed surveillance drones. But Gates said Pakistan now believes the border area "is as big a risk to the stability of Pakistan as it is a problem for us in Afghanistan."
European, Pakistani and Afghan officials are taking part in the administration's strategy review, and the process could be done in "a few weeks," Gates said.

U.S. Rep. Neil Abercrombie, a senior Democrat on the House Armed Services Committee, said the administration is "buying political time" by sending additional units to Afghanistan while it completes a new plan.
President Barack Obama was highly critical of the U.S. invasion of Iraq, which he called a "strategic blunder" during the 2008 campaign. Because of that, Abercrombie said, "He's very, very wary of committing the same kind of tragic move in Afghanistan."
E-mail to a friend

All About Afghanistan • Hamid Karzai • Robert Gates