(CNN) -- The Texas Department of State Health Services announced Friday that it is taking control of a recall of products from Peanut Corporation of America's plant in Plainview.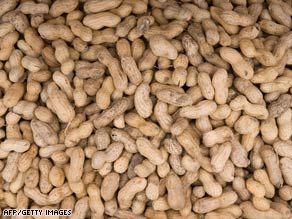 The plant produced oil-roasted and dry-roasted peanuts, peanut meal and granulated peanut.
The move came after the state health department said its officials had gotten no response from the company to a recall order issued last week.
"Manufacturers, distributors and retailers believed to have received products from the company in 2008 are being notified of the recall by DSHS food safety personnel and asked to take appropriate action to protect consumers," the health department said in a news release.
It added that officials were hoping to find customer lists from prior years in the company's records.
The recall, which applies to any products shipped from the Plainview plant since it opened in 2005, was ordered on February 12 after a health inspector found dead rodents, rodent excrement and bird feathers in the plant.
Federal authorities have initiated a criminal probe into the company, whose president, Steven Parnell, earlier this month cited his Fifth Amendment rights in refusing to answer questions from a congressional subcommittee probing a nationwide outbreak of salmonella poisoning that has been traced to his company's peanut processing plant in Blakely, Georgia.
The outbreak has been linked to 654 cases of illness, at least nine of them fatal, in 44 states, the Centers for Disease Control and Prevention said.
The company, which filed this month for bankruptcy liquidation, has disconnected its telephone number.
PCA's bankruptcy lawyer, Andrew S. Goldstein, did not immediately return a call from CNN.
E-mail to a friend

All About Peanut Corporation of America