(CNN) -- The California home where Nadya Suleman plans to raise her 14 children is at risk of foreclosure, CNN affiliate KTLA reported Wednesday.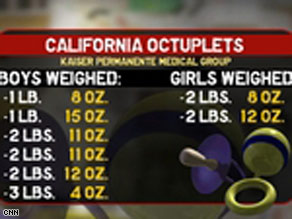 Records show a notice of mortgage default was filed Feb. 9 against the home where the octuplets' mother is living.
Los Angeles County property records show a notice of mortgage default was filed Feb. 9 against the home of Suleman's mother, Angela Suleman, the station reported.
Angela Suleman is $23,225 behind in her mortgage payments and the three-bedroom house could be sold at an auction beginning May 5, documents say.
Suleman has said that she was raising her six children in her mother's home and planned to raise her newborn octuplets there.
News of the foreclosure is the latest twist in the tale of Suleman and her children.
Suleman, 33, had the octuplets through fertility treatments, despite being single and already having six young children and no clear source of income.
The television station could not reach Suleman or her mother for comment, because the phone number at the home had been disconnected.
A spokeswoman for Suleman recently quit because she had been flooded with death threats from people angry that Suleman is receiving disability payments and food stamps to help raise her children.

Watch former spokeswoman for octuplets' mom on Larry King Live »

That spokeswoman, Joann Killeen, told CNN's Larry King on Monday that grandmother Angela Suleman had taken care of Suleman's six children at the home while Suleman was on bed rest for 10 weeks before giving birth to the octuplets.
"Grandma is tired," Killeen said. "Grandma and grandpa are in their 70s. You know, they've raised a daughter. I'm sure they didn't think that they were going to be helping to raise six children."
E-mail to a friend

All About Angela Suleman