By John Torigoe
CNN





EVERETT, Washington (CNN) -- Meet Abraham Lincoln.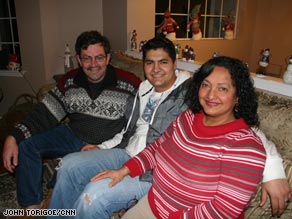 Abraham Lincoln with his parents, Dean and Kryssia Lincoln, at their home in Everett, Washington.
Abraham, 23, may not look like America's 16th president, but he is a distant relative -- and he uses "mrprez16" in his e-mail address.
"I've always joked [that] Dean, my father, looks like President Abraham Lincoln. It's through his bloodline that we're related."
Dean claims to be a third cousin five times removed.
"There were three brothers that came to America from England in 1635," he says. "We're related to Samuel Lincoln, the same one Abraham Lincoln is related to."
"I'm tall and fairly thin," Dean adds. "He didn't have a moustache. If I shaved and grew a beard like him, I'd probably look a lot like him."
Dean's son, Abraham, looks more like his mother.
"I got the color of my skin from my mother, the Hispanic side," Abraham says. "I have the height from my dad, similar to Abraham Lincoln's height -- though not quite there, three inches shorter."

Watch Abraham Lincoln speak of his iconic namesake »
Kryssia, Abraham's mother, is from El Salvador.
"I loved the name Abraham," she says. "I always did. I think it sounds so elegant and in Spanish, it's 'Aab-ra-haam'. In the Bible, Abraham is the 'father of our faith.' "
"I never knew I was going to marry a man with the last name 'Lincoln,' never dreamed about it. So when I got married (in 1982) to my husband, Dean Lincoln, and we had our second child, and it was a boy," she says, snapping her fingers, "sure enough, I wanted to name him Abraham.
"We didn't have to argue very much because of course the heritage that he has ... and his great-grandfather's name was Abraham."

See photos of the Lincolns »
At the Lincolns' home in Everett, Washington, the dining room table is full of genealogy lists, old family photos and letters, some dating back to the Civil War.
Dean carefully unfolds one of the letters. It's from William Lincoln, a Union soldier and Dean's great-great-great-grandfather.
"The 'Rebs' are getting just where ol' Sherman wants them," William Lincoln wrote home to his wife. "He will rout them soon and drive them back to their holes."
"We ain't heard from the election to any certainty yet. But the soldiers think, if Lincoln is elected, we have hopes of the war playing out."
Of his famous name, Abraham says, "At first, people don't believe me. I usually have to pull out my driver's license. They'll usually crack a few jokes ... sort of breaks the ice."
"Once in school, a teacher came to my name in roll call. He decided to stop the class and told me to 'make sure I never drive a Ford car.' 'Don't ever let my wife convince me to go to a theater.'
"He asked if I knew John Wilkes Booth. Those are the most common ones. I think he was waiting to get a reaction outta me, but I told him that I'd heard them before."
Word spread quickly through his high school that this freshman wanted to be called "Mr. Prez." The nickname stuck. And because of his Hispanic roots, some of his classmates even called him "El Presidente."
"I think I've heard every one in the book. I still get a chuckle every time someone thinks they've come up with a new one," Abraham says.
Abraham grew up in Everett, where, coincidentally, the aircraft carrier USS Abraham Lincoln is based. When he was 16, the local newspaper asked if he would write a letter to crew members returning from a mission to Iraq.
Abraham's letter read, in part:
"Dear Lincoln crew,
"My name is Abraham Lincoln. I want to thank you for making me proud to know that the men and women on board the Abraham Lincoln, a ship with the same name as me, are out there fighting as true American heroes."
At first, Abraham had no desire to walk in the shadow of such a great leader. Then, at the University of Washington, he took a political science class.
"There was something about politics that drew me," he says. "I loved the history behind it. That's when I made up my own mind: That was the path I wanted to go."
Abraham spent a semester in Washington, D.C., as an intern for former Oklahoma Rep. J.C. Watts. On his list of places to visit? The Lincoln Memorial and Ford's Theatre.
"The whole atmosphere of that city, knowing someone I was related to, a descendant of mine, had such a huge impact and changed the world as we know it ... And to have a huge memorial dedicated to such a great president."
This past summer, Abraham married Jenae, whom he met as a church youth leader. He says she likes the history behind the name and the attention they receive.
Abe is working as a paralegal. He wants to attend law school and -- you guessed it -- pursue a career in public service or politics.
"If anything, President Abraham Lincoln is a great model to follow after. So if you have the name, might as well go down the same path."
Of the similarities between Presidents Lincoln and Obama, Abraham says, "Lincoln came into office with a nation divided in the Civil War, and Obama is the first African-American president, hoping to transcend party lines dividing America."
Since Abraham's birthday comes eight days after his famous namesake's, the Lincoln family will celebrate President Abraham Lincoln's 200th birthday together with their own son's birthday.
Meanwhile, Dean is growing a beard again. Kryssia wants him to shave the mustache and don a suit to honor President Lincoln's birthday

She says of her son: "No, I don't think he looks like Abraham Lincoln, the president. But he has the name and he serves well the name ... And I think there's a future for my son.
"I just know in my heart he will keep honoring that name. It's very special."
E-mail to a friend

All About Abraham Lincoln